| | | |
Las Enseñanzas de Yogi Bhajan (eBook)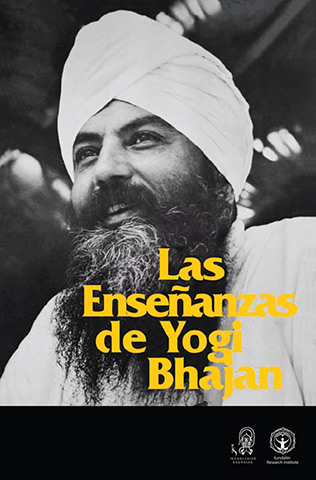 Este es un libro de sabiduría intemporal transmitido por uno de los grandes maestros de la era de Acuario. Tiene el poder de alegrar a las personas en los momentos de tristeza y de levantarles el ánimo en los momentos de depresión. Es una poderosa herramienta para limpiar la mente subconsciente y sustituir los patrones de pensamiento negativos por otros positivos. Su secreto interno es el poder de la palabra hablada.
El poder de la palabra hablada es el don más maravilloso que se le ha dado al ser humano. A través de ella se establecen y rompen relaciones, se transmiten conocimientos y se cambia la conciencia. Cuando hablas, el sonido y el ritmo de tus palabras expresan tu estado de conciencia. Cuando repites en voz alta las palabras de los seres humanos iluminados, iluminas tu propia conciencia, simplemente repitiéndolas.
Las enseñanzas de Yogi Bhajan son una demostración práctica del poder de la palabra hablada para enseñar e iluminar. Lee sus palabras sobre el amor, la felicidad, Dios, la mente y las relaciones. Tu visión del universo nunca será la misma. Lee este libro y experimenta tu propia transformación interior.
ARTIST / AUTHOR BIOS

Yogi Bhajan was the trail-blazing visionary who introduced the world to the amazing, but hitherto secret, teachings of Kundalini Yoga and, for the very first time, revealed its incredible life-transforming potential.
OTHER PRODUCTS BY OR FEATURING YOGI BHAJAN:
PRODUCT DETAILS
File Size(s) & Update(s):
EPUB - 1.409MB - 10/27/19
MOBI - 1.605MB - 10/27/19

ePublication date: 05/08/2021
Catalog: e07401
Print-length: 197 pages
ISBN:
Publisher: KRI; Printed Edition: 2021
Yoga Technology Sales Ranking (e-products): 76
CUSTOMERS ALSO VIEWED: