| | | |
Infinitud y Yo (eBook)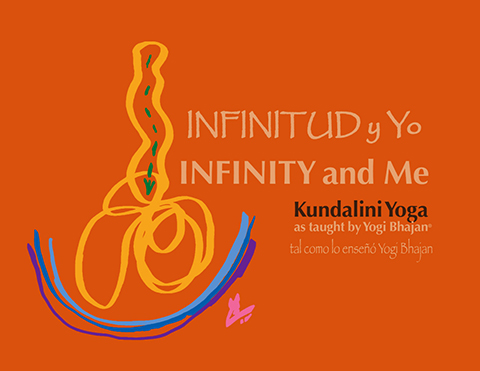 Si eres principiante de Kundalini Yoga, es decir, si has estado practicándolo por menos de seis meses o has estado practicándolo sin la ayuda de un profesor certificado por KRI (Kundalini Research Institute), hay varios puntos que debe conocer antes de empezar a usar este manual de instrucción, los cuales detallamos a continuación.
Guia de Sadhana
Este manual ha sido preparado como extensión y suplemento de Gula para Sadhana en el cual Yogi Bhajan, que trajo la ciencia de Kundalini Yoga a Occidente, explica el yoga, la meditación y la energía Kundalini. Es tambien importante para el principinte familiarizarse con los elementos basicos de Kundalini Yoga: asanas (posturas), mudras (posiciones de las manos) bandas (cerraduras de energía) y mantras (corrientes de sonido) descritos por Gurucharn Singh Khalsa. Para obtener este manual, contacta con Tecnologlas Sagradas (hoja de registros al final de! manual).
EJ Instructor
Kundalini Yoga, es una disciplina espiritual que no puede practicarse sin un maestro, sin embargo, no es necesario que el maestro este flsicamente presente cuando la practiques. Para establecer una uni6n creativa con el Maestro de Kundalini Yoga, Yogi Bhajan, deberfas asegurarse de sintonizar tu energfa con el flujo de energía de la Cadena Dorada de Maestros, usando el Adi Mantra: "ONG NAMO GURUU DEV NAMO" ( las instrucciones se especifican en Ia siguiente sección).
Entonándose
En cada clase o practica de Kundalini Yoga deberás comenzar cantando el Adi Mantra :" ONG NAMO GURUU DEV NAMO'. Al cantarlo en la forma correcta y en conciencia, el estudiante se postra ante su propio ser superior, la fuente de toda gula y abre un canal protector entre él y el Maestro Divina.
ARTIST / AUTHOR BIOS

Yogi Bhajan was the trail-blazing visionary who introduced the world to the amazing, but hitherto secret, teachings of Kundalini Yoga and, for the very first time, revealed its incredible life-transforming potential.

Harijot Kaur Khalsa started Kundalini Yoga classes when living in Oregon. While attending the Eugene White Tantric Yoga course she met Yogi Bhajan and, in the course of their first conversation, he asked her to come back and work for him for three years. When the Tantric was over she flew down to Los Angeles with Yogi Bhajan and Satsimran.
OTHER PRODUCTS BY OR FEATURING YOGI BHAJAN:
PRODUCT DETAILS
File Size(s) & Update(s):
EPUB - 7.794MB - 10/27/19
MOBI - 10.663MB - 10/27/19

ePublication date: 05/26/2021
Catalog: e07501
Print-length: 0 pages
ISBN:
Publisher: KRI; Printed Edition: 2004
Yoga Technology Sales Ranking (e-products): 97
CUSTOMERS ALSO VIEWED: