| | | |
Transitions to a Heart Centered World (eBook)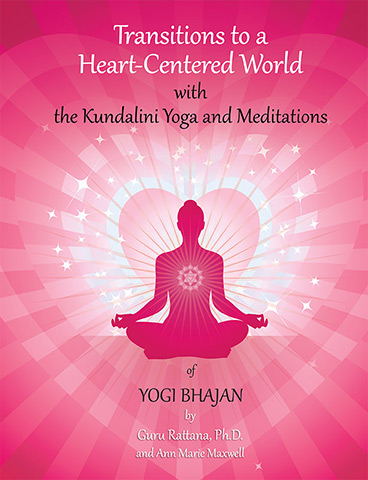 117 Powerful and Effective Kundalini Yoga Kriyas & Meditations to Open Your Heart
Printed version also available - $29.71
In this e-version of Transitions to a Heart-Centered World, Guru Rattana explains that, in order to get to and stay in your heart, you need first to cultivate a powerful and stable base in your lower chakras. Within this popular manual's 208 clearly illustrated pages you will find 117 of the finest Kundalini Yoga kriyas and meditations designed to achieve this result.
In daily use by Kundalini Yoga teachers worldwide, it remains the first book purchased by many new students. It offers powerful and effective techniques to empower your lower chakras and open your heart to unconditional love.
Fine-tuned by Guru Rattana, the content has been distilled from the knowledge and wisdom she has gained from a lifetime of dedicated practice and teaching.
PRODUCT REVIEWS
I use it Most Every Day!
Great book with which to explore Kundalini Yoga and expand your practice. Filled with kriyas & meditations. I use it most every day,
ARTIST / AUTHOR BIOS

Guru Rattana, Ph.D., author, teacher and teacher of teachers, has been a student and teacher of Kundalini Yoga and Meditation for over 40 years. She literally lives and loves Kundalini Yoga, and has devoted a large part of her life to teaching and writing books about this amazing technology.
OTHER PRODUCTS BY OR FEATURING GURU RATTANA PHD:
PRODUCT DETAILS
File Size(s) & Update(s):
EPUB - 12.831MB - 04/01/19
MOBI - 10.226MB - 04/01/19
PDF - 12.360MB - 08/14/18

ePublication date: 06/10/2018
Catalog: e01011
Print-length: 208 pages
ISBN: 9781888029123
Publisher: Yoga Technology Press; Printed Edition: 2014
Yoga Technology Sales Ranking (e-products): 6
CUSTOMERS ALSO VIEWED: