| | | |
Introduction to Kundalini Yoga 1 (eBook)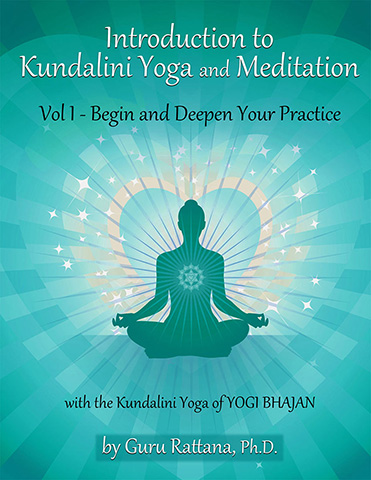 Covers the Basics that every Beginner needs to Learn
Printed version also available - $25.46
Written specially for beginners, Introduction to Kundalini Yoga and Meditation by Guru Rattana, Ph.D., is an easy-to-follow comprehensive 2-volume guide covering the basics of Kundalini Yoga and Meditation.
Volume 1 offers a comprehensive explanation of all the fundamental techniques including:
Understanding the mind and meditation
Guidelines for practicing Kundalini Yoga
How to design your personal practice
Tips to optimize your progress
Companion book Volume 2: Inner Guide to Awareness and Self-Initiation will deepen your understanding of the physiological, mental, and energetic aspects of the awakening process.
PRODUCT REVIEWS
Beyond Perfect!
This introduction is beyond perfect. This is True Kundalini! You have taken everything from my heart and understanding, and placed it in print with your yogic history! YES!!! It creates awe.
ARTIST / AUTHOR BIOS

Guru Rattana, Ph.D., author, teacher and teacher of teachers, has been a student and teacher of Kundalini Yoga and Meditation for over 40 years. She literally lives and loves Kundalini Yoga, and has devoted a large part of her life to teaching and writing books about this amazing technology.
OTHER PRODUCTS BY OR FEATURING GURU RATTANA PHD:
PRODUCT DETAILS
File Size(s) & Update(s):
EPUB - 12.514MB - 03/14/19
MOBI - 8.052MB - 03/14/19
PDF - 6.360MB - 03/14/19

ePublication date: 08/03/2018
Catalog: e01021
Print-length: 154 pages
ISBN: 9781888029147
Publisher: Yoga Technology Press; Printed Edition: 2015
Yoga Technology Sales Ranking (e-products): 7
CUSTOMERS ALSO VIEWED: