Nirvair Singh Khalsa - Kundalini Yogi
Products and Biography
Kundalini Yoga teacher Nirvair Singh Khalsa is a prolific author with a total of 23 books and DVDs to his credit, many of which we carry here at Yoga Technology. A retired university instructor, he taught classes in Kundalini Yoga at the University of Alaska for 22 years, introducing some 275,000 students to the amazing power of this technology. These classes became the basis for our home study Beginners' DVD course.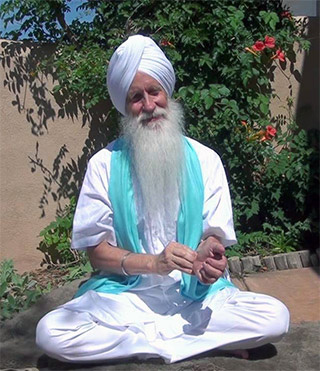 As well as our Beginners' Course, Nirvair Singh's Kundalini Yoga DVD titles include Heal Your Back Now, Weight Loss with Kundalini Yoga, Early Morning Sadhana with Kundalini Yoga, Kundalini Yoga for Relaxation, Morning Stretch Evening Relaxation, Grace and Prosperity with Kundalini Yoga, Walk Tall with Kundalini Yoga and Kundalini Yoga for Athletes. His two leading book titles are The Ten Light Bodies of Consciousness and Art Science and Application of Kundalini Yoga.
He has taught over 11,000 classes attended by over 275,000 students in his career, including seminars, classes and retreats all over the United States and in Mexico, Italy, France, Russia, and India.
Nirvair, Co-founder of the Kundalini Research Institute (KRI), Recently retired from his post as CEO. He still serves on the Board of Directors of the International Kundalini Yoga Teachers Association (IKYTA). Yogi Bhajan honored him in April 2005 with the title Mukhia Singh Sahib, an honorary title indicating an elder in the Sikh Dharma International Ministry, and one only given to those who have done exceptional service to the community.
Nirvair Singh Khalsa lives with his family in Santa Fe, New Mexico, having relocated from Anchorage, Alaska. He still vacations there, where he loves to run, ski, bike and hike in the mountains with his family.
PRODUCTS BY OR FEATURING NIRVAIR SINGH:
Below you will find our selection of products by Nirvair Singh. Retail customers will also enjoy our FREE US Shipping.