| | | |
The Ten Light Bodies of Consciousness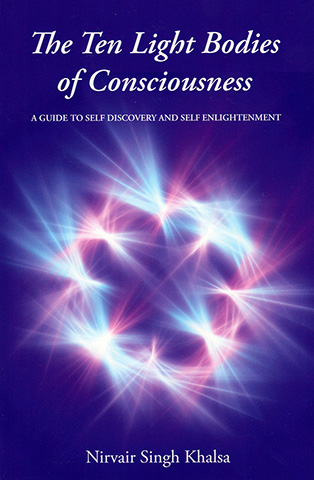 A Guide to Self-Discovery and Self-Enlightenment for a Creative and Peaceful Life
Also available as an eBook - $10.19
The Ten Light Bodies of Consciousness by Nirvair Singh Khalsa will guide you in your quest for a creative and peaceful life. His conversational writing style insures an easy understanding of the Ten Etheric Bodies in Kundalini Yoga as taught by Yogi Bhajan. It is his expressed hope that this book will inspire you to establish or continue with a regular yoga and meditation practice, which can help you face and overcome life's challenges at so many different levels.
This fascinating volume includes:
A 245 page guide for an easy understanding of the Ten Etheric Bodies
An easy, do-it-yourself guide to Numerology using your birthday.
Eleven Kundalini Yoga kriyas, which are exercise routines and meditations linked to your birth numbers and the Ten Bodies, so that you can personalize your own daily routine.
ARTIST / AUTHOR BIOS

Kundalini Yoga teacher Nirvair Singh Khalsa is a prolific author with a total of 23 books and DVDs to his credit, many of which we carry here at Yoga Technology. A retired university instructor, he taught classes in Kundalini Yoga at the University of Alaska for 22 years, introducing some 275,000 students to the amazing power of this technology. These classes became the basis for our home study Beginners' DVD course.
OTHER PRODUCTS BY OR FEATURING NIRVAIR SINGH:
PRODUCT DETAILS
Book softcover 245 pages
ISBN: 9780964056305
Publisher: NSK Productions, Edition: 2010
Catalog: P14001
Product Dimensions: 9 x 6 x 0.5 inches (22.9 x 15.2 x 1.3 cm)
Shipping Weight: 0.8 lbs (0.36 kg) - Shipping Options
Yoga Technology Sales Ranking (all products): 13
CUSTOMERS ALSO VIEWED: