| | | |
Art Science and Application of Kundalini Yoga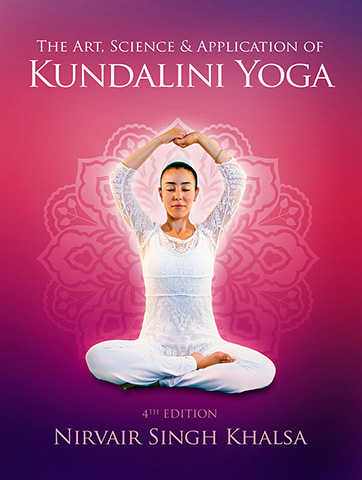 A Definitive Guide to Kundalini Yoga - in Color!
Art, Science & Application of Kundalini Yoga by Nirvair Singh can only be described as the definitive guide to Yogi Bhajan's Kundalini Yoga. It is based on the notes accompanying Nirvair's University of Alaska course which he taught for many years, and which is available on DVD as a main component of our Beginners Course.
This new fourth edition has been augmented with additional kriyas for beginning and intermediate level students, with a new section containing 4 deep and powerful kriyas for more advanced students.
ARTIST / AUTHOR BIOS

Kundalini Yoga teacher Nirvair Singh Khalsa is a prolific author with a total of 23 books and DVDs to his credit, many of which we carry here at Yoga Technology. A retired university instructor, he taught classes in Kundalini Yoga at the University of Alaska for 22 years, introducing some 275,000 students to the amazing power of this technology. These classes became the basis for our home study Beginners' DVD course.
OTHER PRODUCTS BY OR FEATURING NIRVAIR SINGH:
PRODUCT DETAILS
Book softcover 341 pages
ISBN: 9781465280800
Publisher: NSK Productions, Edition: 2015
Catalog: P14012
Product Dimensions: 11 x 8.5 x 0.75 inches (27.9 x 21.6 x 1.9 cm)
Shipping Weight: 1.85 lbs (0.84 kg) - Shipping Options
Yoga Technology Sales Ranking (all products): 36
CUSTOMERS ALSO VIEWED: