| | | |
The Eight Human Talents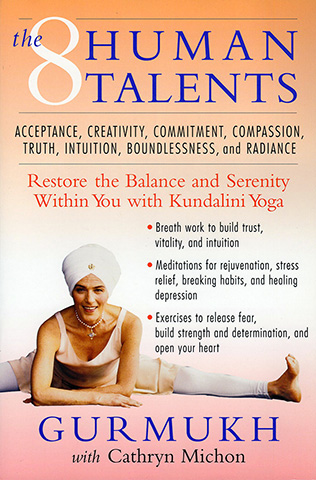 Kundalini Yoga to Increase Your Creativity, Intuition, Compassion, Health and Prosperity
The Eight Human Talents by Gurmukh is a great way of using Kundalini Yoga to get your body and mind into shape. In this easy-to-follow book you will be given all the tools you need to increase your creativity, intuition, compassion, health and prosperity. All you need is a belief in the possibility of change and a commitment of as little as three minutes a day.
From teachers and waiters to Hollywood celebrities, Gurmukh has helped thousands of people find happiness through Kundalini Yoga - and she can help you too!
Gurmukh is my first yoga teacher - her gentleness, discipline, and sense of fun were instrumental in my continuing interest and practice of yoga. She's part guru, part mom. We have Yogi Tea and cookies after class. She's one of a kind. -
ARTIST / AUTHOR BIOS

For over three decades students in Los Angeles and around the world have sought Gurmukh's classes in Kundalini Yoga, meditation, and pre- and post-natal care. She is a co-founder, along with Gurutej Kaur, and director of Golden Bridge Yoga Center in Los Angeles, the region's premier center for Kundalini Yoga and meditation. She teaches classes there and around the world. Gurmukh is also author of a number of books and instructional DVDs.
OTHER PRODUCTS BY OR FEATURING GURMUKH:
PRODUCT DETAILS
Book softcover 228 pages
ISBN: 9780060954659
Publisher: Harper Collins, Edition: 2001
Catalog: P06022
Product Dimensions: 9.2 x 6 x 0.75 inches (23.4 x 15.2 x 1.9 cm)
Shipping Weight: 0.7 lbs (0.32 kg) - Shipping Options
Yoga Technology Sales Ranking (all products): 81
CUSTOMERS ALSO VIEWED: