| | | |
The Inner Art of Kundalini Yoga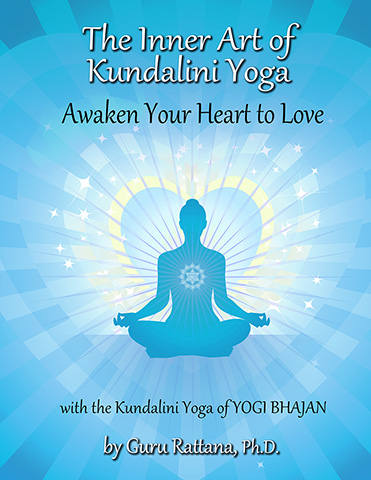 Awaken Your Heart to Love
Also available as an eBook - $16.99
A cornerstone of Guru Rattana's legacy, The Inner Art of Kundalini Yoga, is the distillation of over 40 years of dedicated study, practice and teaching of Kundalini Yoga, and contains the true essence of this wonderful technology. It will forever deepen and enrich how it is taught and practiced.
This book helps you customize your practice by identifying your unique energetic blueprint using numerology, the elements, and astrology. With this personalized information you can
identify the energetic nature of your life challenges and subconscious programming
choose the most relevant kriyas and meditations that can facilitate your journey
develop your unique gifts and cultivate an authentic relationship with your soul and the Divine
Make Big Savings when you buy our Beginners and Beyond 4-book Combo Set.
European Customers - Please note that this book can also be purchased from our sales partner Sat Nam Europe. Please CLICK HERE to check out their offer and take advantage of their excellent service.
PRODUCT REVIEWS
A Bible for my Life
You have changed my life with your great books! They are like a Bible for my life. Just received your new one. Wow, what a work! 'Mazel Tov' on all the fantastic depth of this.
ARTIST / AUTHOR BIOS

Guru Rattana, Ph.D., author, teacher and teacher of teachers, has been a student and teacher of Kundalini Yoga and Meditation for over 40 years. She literally lives and loves Kundalini Yoga, and has devoted a large part of her life to teaching and writing books about this amazing technology.
OTHER PRODUCTS BY OR FEATURING GURU RATTANA PHD:
PRODUCT DETAILS
Manual (comb binding) 274 pages
ISBN: 9781888029246
Publisher: Yoga Technology Press, Edition: 2019
Catalog: P01014
Product Dimensions: 11 x 8.5 x 0.75 inches (27.9 x 21.6 x 1.9 cm)
Shipping Weight: 1.7 lbs (0.77 kg) - Shipping Options
Yoga Technology Sales Ranking (all products): 20
CUSTOMERS ALSO VIEWED: