| | | |
Kundalini Yoga - The Essential Collection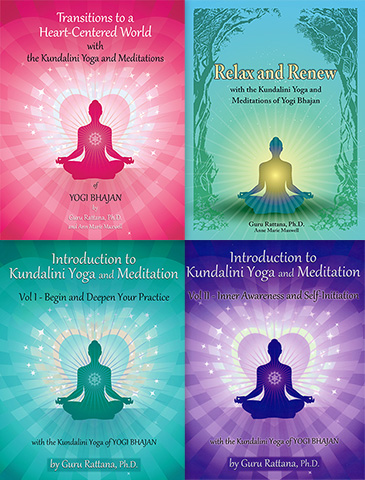 Quintessential Guide to Kundalini Yoga
Kundalini Yoga - the Essential Collection from Guru Rattana, is intended especially to meet the needs of all those new to Kundalini Yoga, and looking to not only get started, but to acquire the information with which to develop their practice. You could also consider it as a life-changing gift for members of your family, and for friends and colleagues too. Save 23% off regular retail when you purchase these four hand-picked manuals, which we consider to be the quintessential guide to the Kundalini Yoga of Guru Rattana.
As well as comprehensive background information, these books are crammed full of yoga sets and meditations, all clearly explained and beautifully illustrated. Join the countless thousands of students who have made their first tentative steps using these manuals, many of whom have gone on to become teachers in their own right. We can get you started and point you in the right direction. After that the sky is, quite literally, the limit.
ARTIST / AUTHOR BIOS

Guru Rattana, Ph.D., author, teacher and teacher of teachers, has been a student and teacher of Kundalini Yoga and Meditation for over 40 years. She literally lives and loves Kundalini Yoga, and has devoted a large part of her life to teaching and writing books about this amazing technology.
OTHER PRODUCTS BY OR FEATURING GURU RATTANA PHD:
PRODUCT DETAILS
Manuals (comb binding) set of 4 - 767 pages
ISBN:
Publisher: Yoga Technology Press, Edition: 2017
Catalog: P01024
Product Dimensions: 11 x 8.5 x 2.4 inches (27.9 x 21.6 x 6.1 cm)
Shipping Weight: 5.7 lbs (2.59 kg) - Shipping Options
Yoga Technology Sales Ranking (all products): 19
CUSTOMERS ALSO VIEWED: