| | | |
Complete Book of Ayurvedic Home Remedies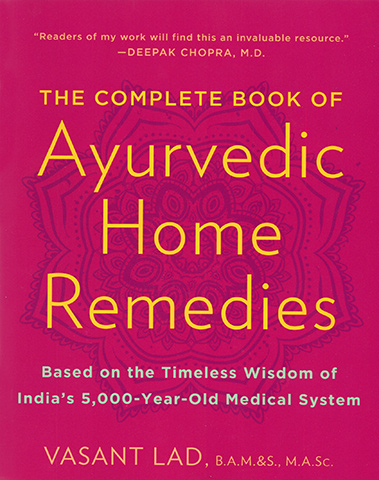 Natural Alternatives to Conventional Treatments for Common Ailments and Chronic Problems
Based on the ancient Indian healing tradition of Ayurveda, dating back thousands of years, The Complete Book of Ayurvedic Home Remedies offers natural alternatives to conventional medicines and treatments for common ailments and chronic problems, giving effective strategies tailored to your personal needs with practical advice and easy-to-follow instructions.
The Complete Book of Ayurvedic Home Remedies enables us all to experience the benefits of Ayurveda's healing properties that have been refined over thousands of years. All of the herbs, foods, and oils Dr. Lad recommends can be found in local health food stores or through mail-order catalogs. Complete with an extensive glossary and resource list, this is the definitive guide to natural, safe, and effective remedies, everyday keys to a lifetime of vitality and well-being.
ARTIST / AUTHOR BIOS

Dr. Vasant Lad, Ayurvedic physician and professor, is one of the world's foremost experts in Ayurveda, and published widely on the subject. He is director of The Ayurvedic Institute in Albuquerque, NM, which he founded in 1984.
PRODUCT DETAILS
Book softcover 336 pages
ISBN: 9780609802861
Publisher: Penguin - Random House, Edition: 1999
Catalog: P10001
Product Dimensions: 9.2 x 7.3 x 0.75 inches (23.4 x 18.5 x 1.9 cm)
Shipping Weight: 1.3 lbs (0.59 kg) - Shipping Options
Yoga Technology Sales Ranking (all products): 75
CUSTOMERS ALSO VIEWED: