SHOP eBOOKS | SHOP BOOKS| SHOP DVDs | SHOP CDs | SHOP YOGI TEA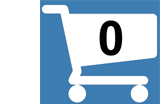 Yogi Tea Bulk Classic 1lb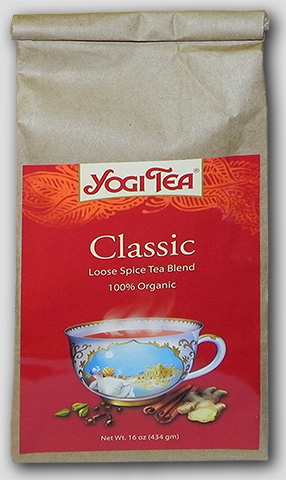 Kundalini Research Institute
BUY NOW: ONLY $17.95
Retails for: $19.95 You save: $2.00 (10%)
Certified Organic
Introduced by Yogi Bhajan, Yogi Tea is tasty, health promoting, energizing and cleansing. A gentle and stimulating tonic for your entire system, it makes you feel good and is very much a part of the yogic lifestyle. Anyone who has attended Summer Solstice Camp in New Mexico will have very pleasant memories of this delicious brew, which tastes even better following a vigorous Kundalini Yoga workout.
Also, check out our new Yogi Tea Twin Pack. At only $32.95, a more economic way to buy this delicious product! Generous wholesale terms are also available. Please contact our sales department.
Follow the directions on the packet. The tea can, if you prefer, be made in bulk and then cooled and stored in a refrigerator, where it will keep for around 2 weeks. Mix the raw tea 50/50 with milk or soy milk and bring back to a near boil before sweetening to taste with honey or maple syrup. For a special treat also add some vanilla extract. The milk aids assimilation and digestion.
"The key to happiness is to sweat, laugh and drink Yogi Tea, everyday!" -
Preparation:
Add 1-1.5 tablespoons of the blend to 1 quart of boiling water.
Simmer for 15-20 minutes.
After simmering add ¼ tsp black tea and steep for a few minutes.
Strain.
Add warm milk and sweeten to taste.
Below is more detailed information on the health giving properties of the various Yogi Tea ingredients:
Ginger is considered to be the universal medicine in Ayurveda. It increases energy and aids digestion and assimilation, as well as being one of the best herbs to counteract nausea and vomiting, relieve cold spasms and cramps, and promote menstruation. It is used for the treatment of arthritis, especially osteoarthritis, and has a relatively high calcium and iron content. It increases peripheral circulation, so is used clinically for cold hands and feet. It can also be used to treat cold and flu.
Cinnamon, pungent and sweet, is a very mild spice, well tolerated by a broad variety of people. It serves to increase general vitality, will warm and energize the body as a whole, as well as counteract congestion, stop diarrhea, improve digestion, relieve abdominal spasms, and promote peripheral blood circulation. It also strengthens bones, lowers blood sugar and excels in the treatment of menstrual cramps.
Cardamom is an excellent digestive enhancer, especially for cold and sweet food. Its pain-relieving, anti-inflammatory, and antispasmodic effects mean that it has many uses in herbal medicine, and possesses a warming, anti-mucus action. It is considered to be particularly rejuvenative for the spleen.
Cloves are warming and promote circulation in the lungs and the stomach. Beneficial to the nervous system, they are also widely used in Asian herbalism to treat coughs and enhance digestion, as well as promote circulation in the lungs and stomach. Their volatile oil is a powerful analgesic. In animal experiments it has also been shown to lower triglycerides and blood sugar.
Black Pepper, known only as a humble condiment in most of the Western world, is considered in Asia to be the foremost detoxifier and anti-aging herb. It is a warming digestive remedy which will also help relieve flatulence. It purifies the blood, increasing circulation and lowers blood pressure, and contains compounds that prevent osteoporosis.
---
OTHER PRODUCTS BY OR FEATURING KUNDALINI RESEARCH INSTITUTE:
PRODUCT DETAILS
Yogi Tea
Manufacturer: KRI
Catalog: YT07001
Product Dimensions: 10 x 5 x 3 inches (25.4 x 12.7 x 7.6 cm)
Shipping Weight: 1.2 lbs (0.54 kg) Shipping Options
Yoga Technology Sales Ranking (all products): 9
---
CUSTOMERS WHO VIEWED THIS ITEM ALSO BOUGHT: