| | | |
The Kundalini Meditation Oracle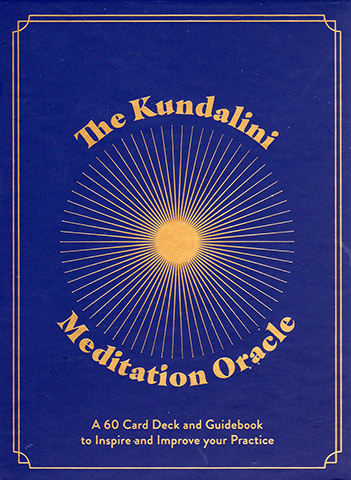 Kundalini Research Institute
BUY NOW: ONLY $21.21
60 Card Deck and Guidebook to Inspire and Improve your Practice
The Kundalini Yoga Meditation Oracle has been designed for all those who have a deep love for meditation practices from Kundalini Yoga, but often find themselves too busy and overwhelmed with the responsibilities of everyday life to pause and shift their attention to their practice.
The Oracle consists of a simple and practical 60 card-deck to help pick your next meditation practice without overthinking, analyzing, or questioning.
Each card, beautifully illustrated with an elegant graphic, provides a unique one-posture Kundalini Yoga meditation, associated with a virtue and a key concept of yogic philosophy, to offer you inspiration to work on your practice. Also included is a 134-page guidebook with inspiration for your day and practice.
OTHER PRODUCTS BY OR FEATURING KUNDALINI RESEARCH INSTITUTE:
PRODUCT DETAILS
60 pages
ISBN: 9780963984784
Publisher: KRI, Edition: 2022
Catalog: p07202
Product Dimensions: 5.5 x 4 x 2 inches (14.0 x 10.2 x 5.1 cm)
Shipping Weight: 1.1 lbs (0.50 kg) - Shipping Options
Yoga Technology Sales Ranking (all products): 46
CUSTOMERS ALSO VIEWED: