SHOP eBOOKS | SHOP BOOKS| SHOP DVDs | SHOP CDs | SHOP YOGI TEA
Kundalini Yoga Experience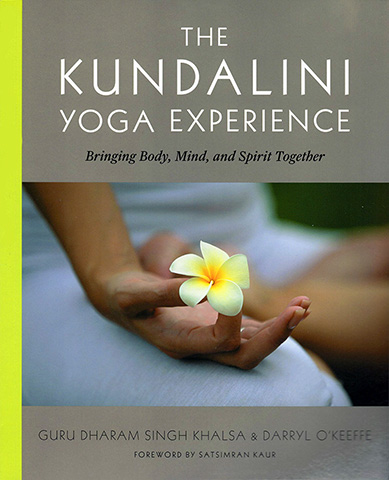 BUY NOW: ONLY $15.95
Retails for: $19.95 You save: $4.00 (20%)
Bringing Body, Mind & Spirit Together
This fully illustrated book, Kundalini Yoga Experience, by leading teachers Guru Dharam and Darryl O'Keefe, helps you discover your strengths and weaknesses, offering a complete system of physical poses, breathing techniques, and focused meditations.
ARTIST / AUTHOR BIOS

Guru Dharam Singh Khalsa was born in London in 1956. He encountered Kundalini Yoga one day in 1979, and began his daily practice the next. He met his teacher, Yogi Bhajan, in 1981, and started teaching Kundalini Yoga himself.

Darryl O'Keefe qualified as a teacher from the Central School of Speech and Drama in London, and has taught continually in some capacity ever since then. In the early 1980's he began to "catch" other people's headaches, and discovered that he could physically remove their pain.
PRODUCT DETAILS
Book softcover 143 pages
ISBN: 9780743225823
Publisher: Simon & Schuster, Edition: 2002
Catalog: P05011
Product Dimensions: 9.7 x 7.5 x 0.35 inches (24.6 x 19.0 x 0.9 cm)
Shipping Weight: 1.05 lbs (0.48 kg) Shipping Options
Yoga Technology Sales Ranking (all products): 98
---
CUSTOMERS WHO VIEWED THIS ITEM ALSO BOUGHT: