| | | |
Finding Peace within Shattered Pieces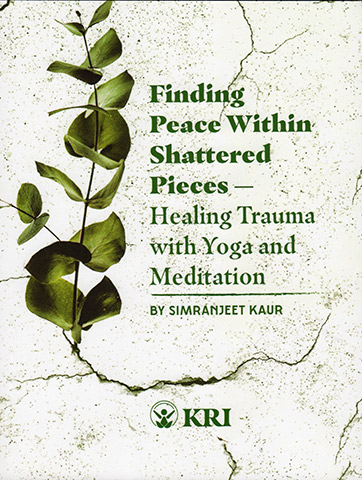 Healing Trauma with Yoga and Meditation
Offering a revolutionary approach to trauma sufferers based on the technology of Kundalini Yoga, Simranjeet Kaur shows how personal empowerment can help the sufferer to come through their blocks, rise out of the darkness of despair, and live a life filled with positive self-worth and joy.
Post traumatic stress disorder resulting from sexual violence or other distressing experiences is more widespread within society than statistics would indicate, but appropriate treatment facilities are few and far between. This text offers an effective alternative. Using the traditions of this ancient healing system therapeutically to heal the emotional and pain bodies, the author empowers her readers to release the pain of past memories, to harmonize their mental state, and to reconnect with the impulses of their core psyche.
This is an extremely valuable and eminently practical contribution to the healing of sexual and other violence in the twenty-first century.
ARTIST / AUTHOR BIOS

A former London Metropolitan police officer, Simranjeet Kaur was trained as a specialist officer investigating rapes and other serious sexual assaults. Eventually the stress of over 1000 such cases led to the onset of severe secondary traumatic stress. In 2009 she began to practice Kundalini Yoga for her own healing process.
PRODUCT DETAILS
Book softcover 220 pages
ISBN: 9780963984791
Publisher: KRI, Edition: 2022
Catalog: p07065
Product Dimensions: 9 x 7 x 0.5 inches (22.9 x 17.8 x 1.3 cm)
Shipping Weight: 1 lbs (0.45 kg) - Shipping Options
Yoga Technology Sales Ranking (all products): 55
CUSTOMERS ALSO VIEWED: