| | | |
Crossing the Hour - 2 DVD Set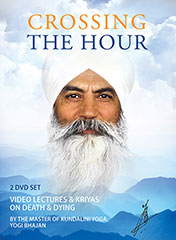 The Pranayama of dying; Journeying Toward the Light
In Crossing the Hour, the new repackaged 2 DVD set from KRI, Yogi Bhajan explains how life poses many questions. Dying is one of them: What do we do at the moment of death? For the most part, we deny death. We never really look into the nature of death as a cycle of life. We never examine our reactions; therefore, we never give ourselves the chance to practice how to die - as Warrior Saints - gracefully and courageously.
See also Merging with the Infinite - complementary book.
Two DVD Set includes:
Living Weightlessly and Breaking the Bonds of Earth
In this meditation Yogi Bhajan guides you toward living weightlessly, lightly. What are the thoughts that weigh us down, tie us to our karmas? How do we break through them at the moment of death? Practice now! Live Now! And die with face and grace
Crossing the Hour of Death
This beautiful meditation guides you through a conscious death - leading you into the pranayama of dying; journeying toward the light, the icy realms, floating free of Earthly concerns; and consciously releasing your Self - die into life.
ARTIST / AUTHOR BIOS

Yogi Bhajan was the trail-blazing visionary who introduced the world to the amazing, but hitherto secret, teachings of Kundalini Yoga and, for the very first time, revealed its incredible life-transforming potential.
OTHER PRODUCTS BY OR FEATURING YOGI BHAJAN:
PRODUCT DETAILS
DVD running time = 1:38
UPC: 9781934532072
Manufacturer: KRI. Released: 2016
Catalog: DV07042
Product Dimensions: 7.5 x 5.4 x 0.6 inches (19.0 x 13.7 x 1.5 cm)
Shipping Weight: 0.25 lbs (0.11 kg) - Shipping Options
Yoga Technology Sales Ranking (all products): 90
CUSTOMERS ALSO VIEWED: