| | | |
Advanced Kundalini Yoga for the Spiritual Warrior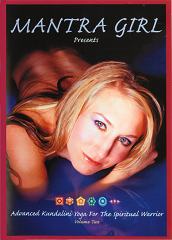 Build the Flexibility, Strength and Endurance Necessary to be a True Spiritual Warrior
Mantra Girl (Erin Kamler) does it again. In this, her second DVD, a fast-paced and energizing Kundalini Yoga class will help you improve circulation and elimination, while building the flexibility, strength and endurance necessary to be a true spiritual warrior.
This is the original Warrior Workout handed down from Yogi Bhajan, and not one of the vanilla versions offered elsewhere. This challenging set will produce a sensation of internal invincibility, detox your body and target your heart chakra like no other set around. It will also burn off those calories. A powerful combination of breathing, movement and meditation, this is a tough but very rewarding workout, the king of Kundalini Yoga kriyas.
Using music from her debut album, Mantra Girl: Truth, and against the beautiful ocean-front backdrop of Malibu, California, Erin Kamler first leads you through Kundalini Yoga exercises and chanting meditations to connect to your creative consciousness and for self-healing. Get ready to sweat, and to be transformed.
For an easier alternative, more suited to beginners and those wishing to develop their fitness, check out Mantra Girl's other DVD – Introduction to Kundalini Yoga and Chanting.
ARTIST / AUTHOR BIOS

Erin Kamler (Mantra Girl) is one of the premiere mantra recording artists and teachers in the yoga community today. An IKYTA certified Kundalini Yoga instructor in the tradition of Yogi Bhajan, Erin is committed to bringing the art and science of mantra to a mainstream audience, and in so doing making this ancient practice more accessible to everyone.
OTHER PRODUCTS BY OR FEATURING ERIN KAMLER - MANTRA GIRL:
PRODUCT DETAILS
DVD running time = 60:00
UPC: 791022223491
Director: Adam M. Smalley
Manufacturer: Mantra Girl Lifestyles. Released: 2003
Catalog: DV16002
Product Dimensions: 7.5 x 5.4 x 0.6 inches (19.0 x 13.7 x 1.5 cm)
Shipping Weight: 0.25 lbs (0.11 kg) - Shipping Options
Yoga Technology Sales Ranking (all products): 88
CUSTOMERS ALSO VIEWED: