Erin Kamler - Mantra Girl
Products and Biography
Erin Kamler (Mantra Girl) is one of the premiere mantra recording artists and teachers in the yoga community today. An IKYTA certified Kundalini Yoga instructor in the tradition of Yogi Bhajan, Erin is committed to bringing the art and science of mantra to a mainstream audience, and in so doing making this ancient practice more accessible to everyone.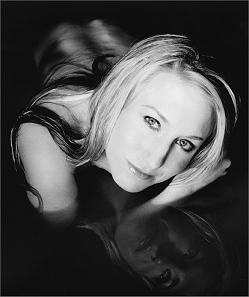 She is an inspiring Kundalini Yoga instructor and not at all pretentious. She doesn't wear a turban or pretend she's your guru. She participates in the exercises along with you, and the level of instruction she offers is way ahead of that offered by many others. Everyone who tries these DVDs just love her soothing voice and working with her.
Erin Kamler's very successful album Mantra Girl: Truth has been featured on EXTRA TV, in Billboard Magazine, in Entertainment Weekly, in New Line Cinema's "A Man Apart", and on the TV show, "A Second Look".
Erin has also featured in two Kundalini Yoga DVDs – Introduction to Kundalini Yoga and Chanting, and Advanced Kundalini Yoga for the Spiritual Warrior. Both of them use sections from the soundtrack from Truth.
Now you can buy our Mantra Girl DVD Gift Set - both DVDs at a sensational promotional price of $25.95!
Producer Adam Smalley has contributed his musical expertise to record production and film music for over ten years. As a film score producer, music supervisor and music editor, his work covers a diverse range of projects such as "Thin Red Line" and "Gladiator" to "The Lion King" and "The Prince of Egypt."
PRODUCTS BY OR FEATURING ERIN KAMLER - MANTRA GIRL:
Below you will find our selection of products by Erin Kamler - Mantra Girl. Retail customers will also enjoy our FREE US Shipping.