| | | |
Introduction to Kundalini Yoga and Chanting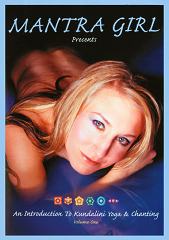 Balance your Chakras and Cultivate Prosperity
Introduction to Kundalini Yoga and chanting, by Mantra Girl (Erin Kamler) is aimed at the beginner/intermediate level but suitable for all. Designed to balance your chakras, and cultivate prosperity, this Kundalini Yoga DVD also includes wonderful and effective exercises to clean your energy field of any negativity it may have picked up during your day.
Filmed in the beautiful relaxed ocean-front atmosphere of Malibu, California, this comprehensive class helps you strengthen your body, increase flexibility, relax and cultivate a clearer, more focused mind. The routines are fun to do and the accompanying music, also featuring the voice of Mantra Girl from her album Truth, will really make you want to move your body.
Erin Kamler first takes you through a great warm up routine, and then leads you through Kundalini Yoga exercises and chanting meditations to balance the chakras and to cultivate prosperity. The exercises are not too easy and will certainly build up your strength and endurance. Beginners can simply do them for as long as they can and take brief rests in between. Many of the moves are done while sitting in Easy Pose (cross-legged) and involved arm movements, twisting of the torso or pelvic rocking motions.
Mantra Girl has raised the bar to a new level for at-home kundalini yoga... Superb music and breathtakingly beautiful... I've fallen in love with kundalini yoga all over again! -
ARTIST / AUTHOR BIOS

Erin Kamler (Mantra Girl) is one of the premiere mantra recording artists and teachers in the yoga community today. An IKYTA certified Kundalini Yoga instructor in the tradition of Yogi Bhajan, Erin is committed to bringing the art and science of mantra to a mainstream audience, and in so doing making this ancient practice more accessible to everyone.
OTHER PRODUCTS BY OR FEATURING ERIN KAMLER - MANTRA GIRL:
PRODUCT DETAILS
DVD running time = 60:00
UPC: 791022223392
Director: Adam M. Smalley
Manufacturer: Mantra Girl Lifestyles. Released: 2003
Catalog: DV16001
Product Dimensions: 7.5 x 5.4 x 0.6 inches (19.0 x 13.7 x 1.5 cm)
Shipping Weight: 0.25 lbs (0.11 kg) - Shipping Options
Yoga Technology Sales Ranking (all products): 91
CUSTOMERS ALSO VIEWED: