| | | |
Kundalini Yoga for Energy Balance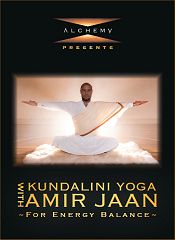 A Profound and Instantaneous Effect on both Body and Mind
If you were to give one Kundalini Yoga DVD to someone you love or to someone who could really benefit from the technology, then Kundalini Yoga for Energy Balance would be the one. The program is challenging but not too much. The instructions are clear and the instructor is very articulate.
Amir Jaan chose the Prana Apana Kriya as the subject of his first DVD because of its profound and instantaneous effect on both the body and the mind. In Kundalini Yoga, what comes before and after the set is just as important as the set itself, and this DVD emphasizes the need to both tune in and also to relax and tune out at the end.
This beautifully produced program from one of the leading British teachers is ideal for all levels from beginner to advanced. One of the many wonderful Kundalini Yoga sets brought to the West by Yogi Bhajan, it will give you a euphoric feeling of deep relaxation on its completion.
I have a large collection of Kundalini Yoga DVDs, but this one is definitely one of my favorites. I find its effects so profound on my being that I bought a second copy, just for insurance, in case the original were ever to get damaged. I love this kriya. –
ARTIST / AUTHOR BIOS

Amir Jaan received his classical training in the ancient art and science of Kundalini Yoga at SKY (The School of Kundalini Yoga). His mentors included world renowned teachers such as Guru Dharam Singh, Darryl O'Keefe and Bridget Layton Minor, all of whom had previously been students of the late Yogi Bhajan.
PRODUCT DETAILS
DVD running time = 62:55
UPC: 793573107459
Manufacturer: Alchemy, UK. Released: 2010
Catalog: DV09001
Product Dimensions: 7.5 x 5.4 x 0.6 inches (19.0 x 13.7 x 1.5 cm)
Shipping Weight: 0.25 lbs (0.11 kg) - Shipping Options
Yoga Technology Sales Ranking (all products): 63
CUSTOMERS ALSO VIEWED: