| | | |
Praana Praanee Praanayam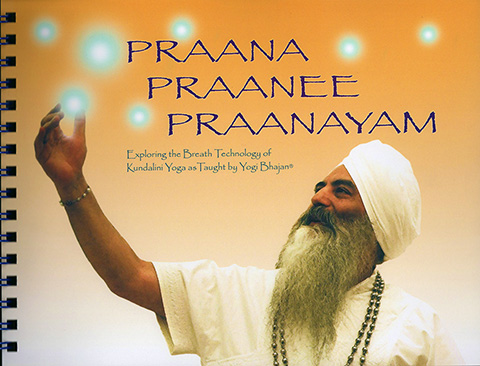 Achieving Mental Clarity and Inner Balance through the Breathing Exercises of Kundalini Yoga
Also available as an eBook - $17.84
Praana Praanee Praanayam is a must-have for all Kundalini Yoga practitioners and teachers, and for anyone interested in using pranayams (breathing exercises and meditations) to achieve mental clarity and inner balance. Well put together and abounding with beautiful illustrations and explanations, it is an in-depth and probably the most comprehensive collection of classic and never before published breath techniques to exalt the human spirit, as given by Yogi Bhajan, Master of Kundalini Yoga.
Drawing from an astoundingly rich wealth of yogic history, Yogi Bhajan reveals dozens of previously unknown and hidden techniques for enhancing spiritual, mental and physical growth - grouped appropriately into chapters and containing many practical (1-3 minute) techniques - making these practices very easy to access and assimilate.
ARTIST / AUTHOR BIOS

Yogi Bhajan was the trail-blazing visionary who introduced the world to the amazing, but hitherto secret, teachings of Kundalini Yoga and, for the very first time, revealed its incredible life-transforming potential.

Harijot Kaur Khalsa started Kundalini Yoga classes when living in Oregon. While attending the Eugene White Tantric Yoga course she met Yogi Bhajan and, in the course of their first conversation, he asked her to come back and work for him for three years. When the Tantric was over she flew down to Los Angeles with Yogi Bhajan and Satsimran.
OTHER PRODUCTS BY OR FEATURING YOGI BHAJAN:
PRODUCT DETAILS
Manual (wire/spiral binding) 214 pages
ISBN: 9780972011075
Publisher: KRI, Edition: 2006
Catalog: P07003
Product Dimensions: 9 x 11 x 0.5 inches (22.9 x 27.9 x 1.3 cm)
Shipping Weight: 1.55 lbs (0.70 kg) - Shipping Options
Yoga Technology Sales Ranking (all products): 19
CUSTOMERS ALSO VIEWED: