| | | |
I Am a Woman - 2 Book Set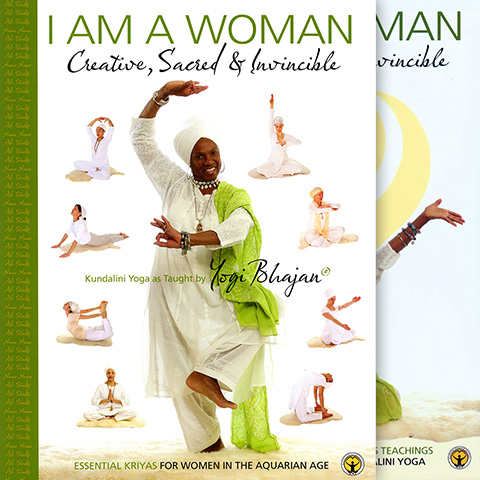 Kundalini Yoga Kriyas and Reference Materials for Every Woman Seeking Enlightenment
The I Am a Woman books - Essential Kriyas for Women in the Aquarian Age and Selected Lectures from the Women's Teachings of Yogi Bhajan – offer extraordinary Kundalini Yoga reference materials which are a must have for every woman seeking spiritual enlightenment.
Clearly organized by topic, the Kriya Book enables you, the reader, to easily focus your practice on a particular problem – for example, on clearing old patterns. Alternatively, you can simply open it up at random and try something new. Each chapter includes a vigorous kriya or two, several meditations, and a mantra (sound current) practice to connect with your inner wisdom.
Within its pages, each yoga set is accompanied by beautiful photographic illustrations, and includes detailed explanations of the different postures and also of the specific mudras (or hand positions) employed. The purpose of each posture and breath is clearly explained, enabling you to observe its effects. Each chapter begins with beautiful words of wisdom and support.
The Selected Lectures . . ./
ARTIST / AUTHOR BIOS

Yogi Bhajan was the trail-blazing visionary who introduced the world to the amazing, but hitherto secret, teachings of Kundalini Yoga and, for the very first time, revealed its incredible life-transforming potential.
OTHER PRODUCTS BY OR FEATURING YOGI BHAJAN:
PRODUCT DETAILS
Book softcover 466 pages
ISBN:
Publisher: KRI, Edition: 2013
Catalog: P07053
Product Dimensions: 11 x 8.5 x 1.4 inches (27.9 x 21.6 x 3.6 cm)
Shipping Weight: 3.35 lbs (1.52 kg) - Shipping Options
Yoga Technology Sales Ranking (all products): 108
CUSTOMERS ALSO VIEWED: