| | | |
The Healing Fire of Heaven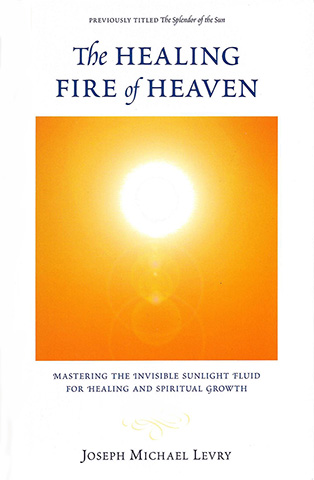 Working with the Sun, one of the Highest, most Potent and Effective Spiritual Systems there is.
In The Healing Fire of Heaven by Dr. Joseph Michael Levry you will learn that there is no spiritual method more powerful than working with the Sun. It is one of the highest, most potent and effective spiritual systems you can come across on this earth. By working with the Sun you raise your consciousness and establish a spiritual communion with the origin of life, the essence of all things and the primal source of light. It is an initiation to your own essence.
The Sun will expand your perception and give you an experience of your own infinity, so that you may experience your vastness and enjoy the fullness of life. Working with the Sun will cause your soul to become active and your spiritual powers to become operative, showing clear visible signs in your mind, spirit and physical body.
On a physical level, working with the Sun sparks a complete metamorphosis and renewal of the cells and tissues in the body - all the unhealthy cells and energies are replaced, resulting in health, vitality, complete balance and intelligence.
In this book, Dr. Levry shows you practical ways of connecting with the Sun in order to capture its many benefits and blessings.
ARTIST / AUTHOR BIOS

Dr. Joseph Michael Levry has spent over 30 years studying, researching and teaching the sacred sciences of Kundalini Yoga and Kabbalah. He is the founder of Shakti Naam Yoga and is a prolific writer and recording artist, having published a substantial number of books and mantra CDs.
OTHER PRODUCTS BY OR FEATURING DR JOSEPH MICHAEL LEVRY:
PRODUCT DETAILS
Book softcover 165 pages
ISBN: 9781885562265
Publisher: Rootlight, Inc., Edition: 2004
Catalog: P03003
Product Dimensions: 8.5 x 5.5 x 0.5 inches (21.6 x 14.0 x 1.3 cm)
Shipping Weight: 0.8 lbs (0.36 kg) - Shipping Options
Yoga Technology Sales Ranking (all products): 124
CUSTOMERS ALSO VIEWED: