| | | |
The Kundalini Yoga Posture Manual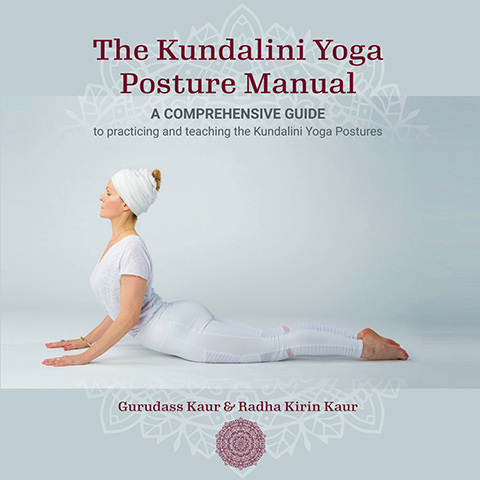 Practicing Kundalini Yoga in Safety while also Maximizing its Benefits
The Kundalini Yoga Posture Manual explains the importance of using the correct postures (asanas or poses), allowing you to practice in safety, while at the same time maximizing the effects from both stimulation and cleansing, and strengthening your many bodily systems. Incorrect alignments can result in obstructions which can inhibit the optimum flow of energy around the body, and particularly along the spine.
A must-have for students at all levels, and for teachers too, the Kundalini Yoga Posture Manual, by Gurudass Kaur and Radha Kirin Kaur, provides
a clear and beautifully illustrated guide to this vital subject
explanations on how to avoid common mistakes
effective modifications and variations to each posture for the benefit of those physically unable to perform the original to its fullest extent
As your practice develops, you will be able to judge your progress by how compassionate and conscious you have become. Unfolding and flowing energy will give you an increasing sense of connectedness, allowing you to find release from your fears, insecurities and self-limiting thoughts.
Make Big Savings when you buy our Beginners and Beyond 4-book Combo Set.
European Customers - Please note that this book can also be purchased from our sales partner Sat Nam Europe. Please CLICK HERE to check out their offer and take advantage of their excellent service.
PRODUCT REVIEWS
Amazing Book Suitable for All Practitioners
I am really amazed by the quality of this book, which is suitable as much for beginners and practitioners as for advanced students, teachers and even trainers. I've been waiting for such a book for so long! It offers so many precisions on the postures, how to enter the Asana, the do's and don'ts, the effects and also some very congruent variations. It is complete, clear, with a very light and sober layout and beautiful pictures. I am deeply grateful to both authors, whose work and dedication will help so many in deepening their practice of Kundalini Yoga postures with the right tool!
ARTIST / AUTHOR BIOS

Gurudass Kaur has been practicing and teaching Kundalini Yoga since 1972. Now living in the US, she regularly travels internationally to train teachers world-wide.

Radha Kirin, the Wellness Advisor at Kellogg School of Management at Northwestern University, teaches there at the recreation center, as well as at Urban Yoga Chicago and North Shore Yoga, specializing in Kundalini Yoga, Yin Yoga, Vinyasa, Pranayam, and many types of meditation.
OTHER PRODUCTS BY OR FEATURING GURUDASS KAUR:
PRODUCT DETAILS
Book softcover 174 pages
ISBN: 9783941566262
Publisher: Yogi Press, Edition: 2019
Catalog: p15101
Product Dimensions: 8.5 x 8.5 x 0.5 inches (21.6 x 21.6 x 1.3 cm)
Shipping Weight: 1.4 lbs (0.64 kg) - Shipping Options
Yoga Technology Sales Ranking (all products): 7
CUSTOMERS ALSO VIEWED: