| | | |
Kundalini Yoga - Beginners and Beyond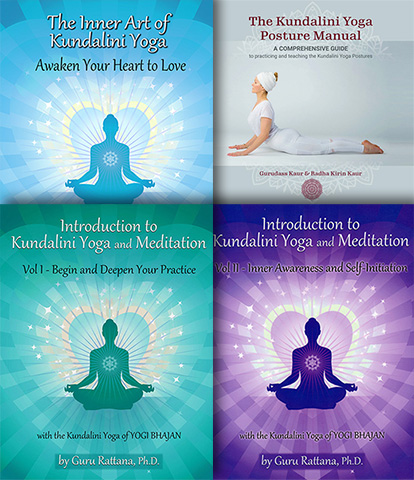 Take Your Practice to the Next Level with Guru Rattana and Others
Kundalini Yoga for Beginners and Beyond is aimed at all practitioners, not just those who are new to the technology.
Guru Rattana's introductory volumes provide a comprehensive and inclusive review of the basic principles, which can be used to enhance your awareness by both refining and deepening your current practice. This helps expand your consciousness and advance your personal evolution.
The Inner Art of Kundalini Yoga builds further on these strong foundations. Based on the core manual for her Inner Awareness Teacher Training Program, the text has been considerably broadened to offer practitioners a clear map that can be used to discover and develop their own unique gifts, by cultivating an authentic relationship with their soul and with the Divine.
As an essential adjunct to these books, the popular Kundalini Yoga Posture Manual by Gurudass Kaur and Radha Kirin Kaur facilitates a safe practice, by avoiding possible problems resulting from incorrect alignments, while at the same time maximizing the effects from both stimulation and cleansing, and further strengthening your many bodily systems.
ARTIST / AUTHOR BIOS

Guru Rattana, Ph.D., author, teacher and teacher of teachers, has been a student and teacher of Kundalini Yoga and Meditation for over 40 years. She literally lives and loves Kundalini Yoga, and has devoted a large part of her life to teaching and writing books about this amazing technology.

Gurudass Kaur has been practicing and teaching Kundalini Yoga since 1972. Now living in the US, she regularly travels internationally to train teachers world-wide.

Radha Kirin, the Wellness Advisor at Kellogg School of Management at Northwestern University, teaches there at the recreation center, as well as at Urban Yoga Chicago and North Shore Yoga, specializing in Kundalini Yoga, Yin Yoga, Vinyasa, Pranayam, and many types of meditation.
OTHER PRODUCTS BY OR FEATURING GURU RATTANA PHD:
PRODUCT DETAILS
Manuals (comb binding) set of 4 - 776 pages
ISBN:
Publisher: Yoga Technology Press, Edition: 2022
Catalog: p01025
Product Dimensions: 11 x 8.5 x 2 inches (27.9 x 21.6 x 5.1 cm)
Shipping Weight: 5.4 lbs (2.45 kg) - Shipping Options
Yoga Technology Sales Ranking (all products): 37
CUSTOMERS ALSO VIEWED: