| | | |
Kundalini Yoga - The Ultimate Collection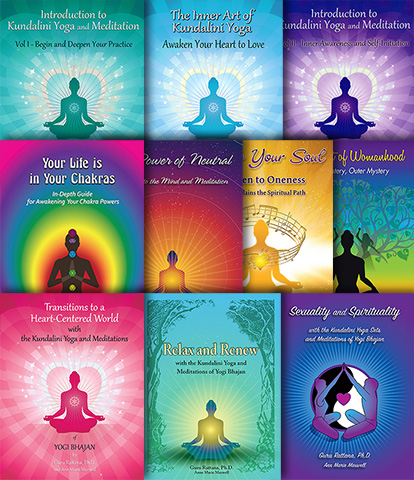 Own this Amazing Collection of Guru Rattana Books
We have received many requests to offer a complete set of Guru Rattana's books on Kundalini Yoga and Meditation. Here it is – The Ultimate Collection – and at a very affordable price too!
Comprising 10 books and 2370 pages, this is a gift that can last a lifetime. Treat yourself, a dear family member, a close friend, or help a Kundalini Yoga teacher establish a library for their students.
ARTIST / AUTHOR BIOS

Guru Rattana, Ph.D., author, teacher and teacher of teachers, has been a student and teacher of Kundalini Yoga and Meditation for over 40 years. She literally lives and loves Kundalini Yoga, and has devoted a large part of her life to teaching and writing books about this amazing technology.
OTHER PRODUCTS BY OR FEATURING GURU RATTANA PHD:
PRODUCT DETAILS
Manuals (comb binding) set of 10 - 2370 pages
ISBN:
Publisher: Yoga Technology LLC, Edition: 2022
Catalog: p01040
Product Dimensions: 11 x 8.5 x 9 inches (27.9 x 21.6 x 22.9 cm)
Shipping Weight: 14 lbs (6.35 kg) - Shipping Options
Yoga Technology Sales Ranking (all products): 10
CUSTOMERS ALSO VIEWED: