| | | |
A Taste of India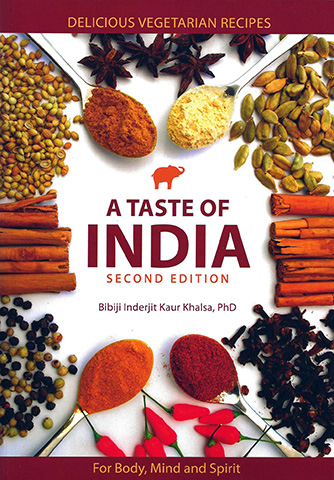 Delicious Ayurvedic recipes from India to Nourish the Whole Being - Body, Mind and Spirit
Also available as an eBook - $9.34
This is the second edition of Bibiji's popular book on Indian cookery, inspired originally by her husband, Yogi Bhajan. Based on the ancient Ayurvedic science of life, these recipes nourish the whole being - body, mind and spirit. With recipes to uplift the soul and open the heart, Bibiji's philosophy is that the love you put into the food you make is the purist nourishment of all. In A Taste of India you will discover tips for preparing food at home that fulfills the palate and brings your healing touch into your food and your home.
In this book, great for yogis, exercise enthusiasts, martial artists, and anyone who wants to experience a boost in their metabolism and energize their whole being, Bibiji gives us colorful dishes that possess an amazing variety of subtle tastes and aromas.
ARTIST / AUTHOR BIOS

Bibiji Inderjit Kaur, widow of the late Yogi Bhajan, continues to inspire many yogis and spiritual seekers throughout the world with her light, grace and dedication to her late husband's work. She has lovingly compiled Mantra, a comprehensive collection of hundreds of his beautiful mantras. In addition, her authentic vegetarian recipes presented in her Eastern cookery book, A Taste of India, including many of Yogi Bhajan's personal favorites, are exotic yet presented so clearly that they are easy to prepare.
OTHER PRODUCTS BY OR FEATURING BIBIJI INDERJIT KAUR:
PRODUCT DETAILS
Book softcover 265 pages
ISBN: 9781934532874
Publisher: KRI, Edition: 2012
Catalog: P07211
Product Dimensions: 10 x 7 x 0.65 inches (25.4 x 17.8 x 1.7 cm)
Shipping Weight: 1.25 lbs (0.57 kg) - Shipping Options
Yoga Technology Sales Ranking (all products): 84
CUSTOMERS ALSO VIEWED: