Bibiji Inderjit Kaur
Products and Biography
Bibiji Inderjit Kaur, widow of the late Yogi Bhajan, continues to inspire many yogis and spiritual seekers throughout the world with her light, grace and dedication to her late husband's work. She has lovingly compiled Mantra, a comprehensive collection of hundreds of his beautiful mantras. In addition, her authentic vegetarian recipes presented in her Eastern cookery book, A Taste of India, including many of Yogi Bhajan's personal favorites, are exotic yet presented so clearly that they are easy to prepare.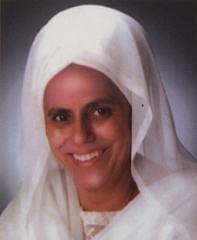 Inderjit Kaur Uppal as she was then, a native of Northern India, first met Yogi Bhajan back in the early 50's. They were married in Delhi in 1954. Bibiji is the mother of his three children – two sons and a daughter.
Her cookery style and recipes reflect the culinary traditions of her home region. Northern Indian food makes much use of rice, wheat, yogurt, panir (simple cheese), ghee (clarified butter), legumes, fruit, nuts, herbs and spices. The ready availability of a rich variety of ingredients at all times of the year means that this region produces a dazzling array of vegetarian dishes.
Bibiji Inderjit Kaur's recipes are designed for the whole person - body, mind and spirit – very colorful recipes which at the same time emphasize the value of whole foods and natural ingredients. Their variety of subtle tastes and aromas will not fail to delight your palate, while you will be left feeling fit and fulfilled from the healthful ingredients.
PRODUCTS BY OR FEATURING BIBIJI INDERJIT KAUR:
Below you will find our selection of products by Bibiji Inderjit Kaur. Retail customers will also enjoy our FREE US Shipping.