| | | |
Psyche of the Golden Shield (eBook)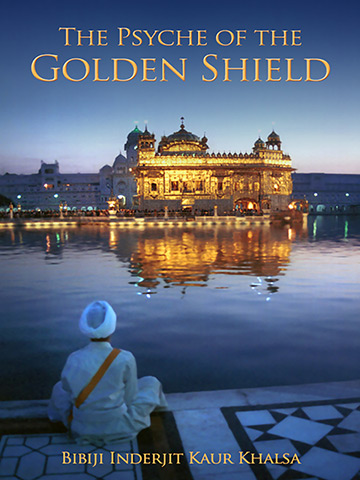 Achieve Excellence Within and Without, easily Interacting with the World and your Soul
The human psyche is composed of 10 separate interlinked bodies. The perfected human psyche, able to achieve excellence within and without, enables you to interact with the world and with your soul with complete ease. The ten bodies are:
Soul Body which gives Humility
Negative Mind which gives Obedience
Positive Mind which gives Equality
Neutral Mind which gives Service
Physical Body which gives Self-sacrifice
Arcline which gives Justice
Aura which gives Mercy
Pranic Body which gives Purity
Subtle Body which gives Calmness
Radiant Body which gives Royal Courage
Through the perfection of each body the human psyche attains its wholeness. This wholeness gives the human the protection it needs to live fearlessly as the completeness of the psyche warns the human of all dangers forthcoming. Each technology from the Guru's teachings (shabad and Siri Guru Granth Sahib) creates and repairs one or more of our ten bodies. The purpose of conscious knowledge that our ten bodies are working to is to produce the most effective functioning being who can easily deal with life's challenges. It gives one the super-excellent ability to calculate and live a life of fulfillment and excellence.
ARTIST / AUTHOR BIOS

Bibiji Inderjit Kaur, widow of the late Yogi Bhajan, continues to inspire many yogis and spiritual seekers throughout the world with her light, grace and dedication to her late husband's work. She has lovingly compiled Mantra, a comprehensive collection of hundreds of his beautiful mantras. In addition, her authentic vegetarian recipes presented in her Eastern cookery book, A Taste of India, including many of Yogi Bhajan's personal favorites, are exotic yet presented so clearly that they are easy to prepare.
OTHER PRODUCTS BY OR FEATURING BIBIJI INDERJIT KAUR:
PRODUCT DETAILS
File Size(s) & Update(s):
EPUB - 4.912MB - 06/15/18
MOBI - 9.349MB - 06/15/18

ePublication date: 06/15/2018
Catalog: e07311
Print-length: 217 pages
ISBN:
Publisher: KRI; Printed Edition: 2013
Yoga Technology Sales Ranking (e-products): 21
CUSTOMERS ALSO VIEWED: