SHOP eBOOKS | SHOP BOOKS| SHOP DVDs | SHOP CDs | SHOP YOGI TEA
The Gift of Womanhood (eBook)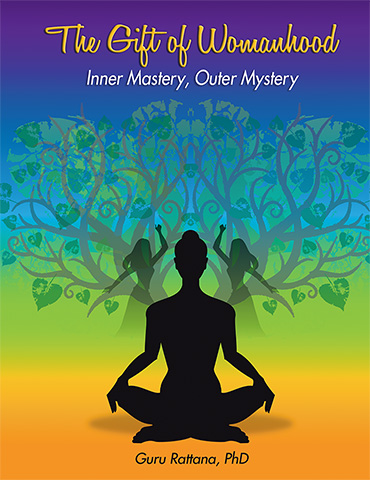 BUY NOW: ONLY $20.23
Retails for: $22.99 You save: $2.76 (12%)
Simple Kundalini Yoga Techniques to Awaken Your Identity as a Sacred Woman
Printed version also available - $23.97
This e-version of The Gift of Womanhood by Guru Rattana, Ph.D., offers to every woman a profound formula and effective transformational techniques for liberating her psyche. In so doing, it also reveals a ground-breaking approach to women's empowerment. There are simple methods to decode your mysterious design and guides for you to awaken to your authentic identity as a sacred woman. Using her deep insights and sensitivity, the author illuminates a unique spiritual path for you as a woman, using Kundalini Yoga and Meditation techniques that will both touch your soul and set you free.
Combining her academic training in political science and her path as a spiritual teacher, Guru Rattana offers you this revolutionary new volume for women. She has, within its pages, successfully integrated feminine sensitivity and feeling awareness into a traditionally male-dominated spiritual path.
The message in Gift of Womanhood is original, profound, and a new milestone in spiritual writing and woman studies. -
ARTIST / AUTHOR BIOS

Guru Rattana, Ph.D., author, teacher and teacher of teachers, has been a student and teacher of Kundalini Yoga and Meditation for over 40 years. She literally lives and loves Kundalini Yoga, and has devoted a large part of her life to teaching and writing books about this amazing technology.
OTHER PRODUCTS BY OR FEATURING GURU RATTANA PHD:
PRODUCT DETAILS
File Size(s) & Update(s):
PDF - 8.632MB - 08/14/18

ePublication date: 08/01/2018
Catalog: e01103
Print-length: 333 pages
ISBN: 9781888029109
Publisher: Yoga Technology Press; Printed Edition: 2012
Yoga Technology Sales Ranking (e-products): 7
CUSTOMERS ALSO VIEWED: