| | | |
The Gift of Womanhood (eBook)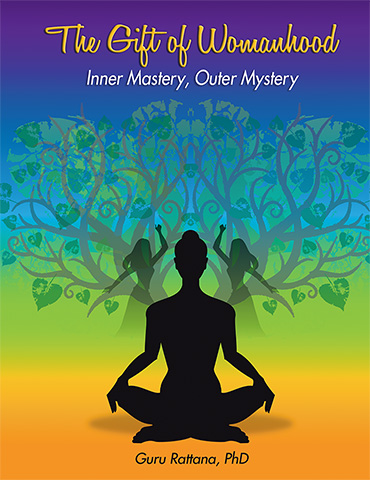 Kundalini Yoga for Women - Effective Empowerment Techniques to Set You Free
Printed version also available - $31.96
This e-version of The Gift of Womanhood by Guru Rattana, Ph.D., a best-selling Kundalini Yoga manual specially for women, offers to every woman a profound formula and effective transformational techniques for liberating her psyche. In so doing, it also reveals a ground-breaking approach to women's empowerment.
There are simple methods to decode your mysterious design and guides for you to awaken to your authentic identity as a sacred woman. Using her deep insights and sensitivity, the author illuminates a unique spiritual path for you to follow, based on Kundalini Yoga and Meditation techniques specially adapted for women.
This book includes 31 Kundalini Yoga sets and 25 meditations, all fully illustrated and specifically chosen to create physical and emotional balance and internal harmony.
As a woman, you are a mystery.
Everyone loves mysteries, so enjoy being one!
But never be a mystery to yourself!
The message in Gift of Womanhood is original, profound, and a new milestone in spiritual writing and woman studies. -
ARTIST / AUTHOR BIOS

Guru Rattana, Ph.D., author, teacher and teacher of teachers, has been a student and teacher of Kundalini Yoga and Meditation for over 40 years. She literally lives and loves Kundalini Yoga, and has devoted a large part of her life to teaching and writing books about this amazing technology.
OTHER PRODUCTS BY OR FEATURING GURU RATTANA PHD:
PRODUCT DETAILS
File Size(s) & Update(s):
PDF - 8.632MB - 08/14/18

ePublication date: 08/01/2018
Catalog: e01103
Print-length: 333 pages
ISBN: 9781888029109
Publisher: Yoga Technology Press; Printed Edition: 2012
Yoga Technology Sales Ranking (e-products): 2
CUSTOMERS ALSO VIEWED: