| | | |
Breathwalk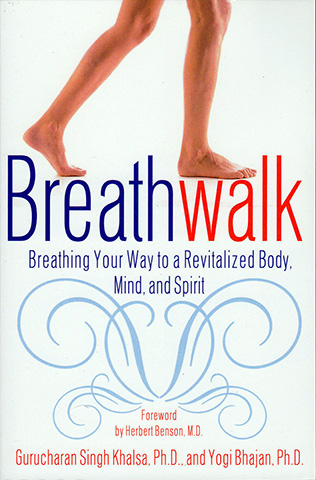 A Breath of Fresh Air to Change Your Life for the Better with Every Step You Take
Breathing and walking comprise two of our simplest activities, yet they are almost two of our most powerful actions. Breathwalk by Gurucharan Singh and Yogi Bhajan brings them together in a systematic and meditative way, to enhance our physical, emotional and spiritual fitness. We can tap our vitality to fully enjoy and excel in our every endeavor.
Breathwalk teaches us:
how to alleviate exhaustion, anxiety, sadness
to heal physical, spiritual and mental conflict
to enter a zone of total fitness of body & mind
This practical, insightful guide, from two of the world's leading experts in meditation and Kundalini Yoga, is a breath of fresh air that can change your life for the better with every step you take.
ARTIST / AUTHOR BIOS

Gurucharan Singh Khalsa is a psychotherapist, teacher and writer, and is a world recognized expert in the science and technology of Kundalini Yoga. He is a business consultant, therapist, MIT instructor and director of a large community of yoga practitioners. Today, he is a leading expert in Kundalini Yoga and meditation and his passion for teaching this ancient form of yoga insures that, through his work, he is able to continue assisting people in great numbers.
OTHER PRODUCTS BY OR FEATURING GURUCHARAN SINGH:
PRODUCT DETAILS
Book softcover 278 pages
ISBN: 9780767904933
Publisher: Penguin - Random House, Edition: 2000
Catalog: P08002
Product Dimensions: 8 x 5.3 x 0.75 inches (20.3 x 13.5 x 1.9 cm)
Shipping Weight: 0.6 lbs (0.27 kg) - Shipping Options
Yoga Technology Sales Ranking (all products): 47
CUSTOMERS ALSO VIEWED: