| | | |
The 21 Stages of Meditation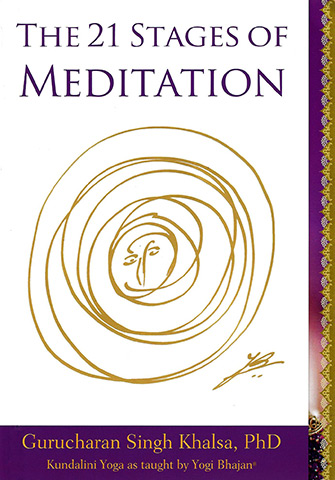 Inspiration and Motivation to both Expand Your Practice and Deepen Your Experience
Also available as an eBook - $17.84
The 21 Stages of Meditation by Gurucharan Singh Khalsa is a simply awesome publication which will inspire and motivate you, and give you guidance while you work on expanding your practice and deepening your experience and understanding. Learn to recognize your strengths as a meditator, clarify the actual process, and discover the steps you need to take to continue your learning process.
Based on the Kundalini Yoga teachings of Yogi Bhajan, this book explains everything - scientifically, mentally, & spiritually. It is equally effective both for those beginning to meditate (so they know that what they experience is "normal") and also for more experienced meditators. You may have some experiences differing from those detailed within, but that does not mean you're not following the instructions. Meditative experiences can vary greatly from individual to individual and even from day to day.
ARTIST / AUTHOR BIOS

Gurucharan Singh Khalsa is a psychotherapist, teacher and writer, and is a world recognized expert in the science and technology of Kundalini Yoga. He is a business consultant, therapist, MIT instructor and director of a large community of yoga practitioners. Today, he is a leading expert in Kundalini Yoga and meditation and his passion for teaching this ancient form of yoga insures that, through his work, he is able to continue assisting people in great numbers.
OTHER PRODUCTS BY OR FEATURING GURUCHARAN SINGH:
PRODUCT DETAILS
Book softcover 417 pages
ISBN: 9781934532775
Publisher: KRI, Edition: 2012
Catalog: P07023
Product Dimensions: 10 x 7 x 0.75 inches (25.4 x 17.8 x 1.9 cm)
Shipping Weight: 2.4 lbs (1.09 kg) - Shipping Options
Yoga Technology Sales Ranking (all products): 26
CUSTOMERS ALSO VIEWED: