| | | |
Kundalini Yoga - The Classic Collection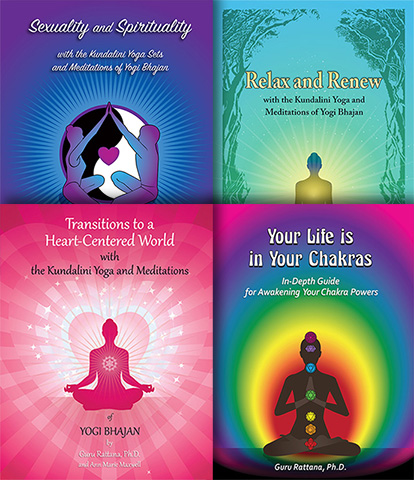 Features Guru Rattana's Original and Best Selling Kundalini Yoga Manuals
It was back in 1986 that Guru Rattana began writing and publishing her books on Kundalini Yoga and Meditation.
Over the course of the succeeding 8 years, and with the help of her illustrator and good friend Ann Marie Maxwell, she published 4 manuals – Transitions to a Heart Centered World, Relax & Renew, Sexuality & Spirituality and Your Life is in Your Chakras. These books all became instant worldwide best-sellers within the Kundalini Yoga community.
Now, in fully revised, expanded and digitally typeset second editions, they are still as popular as ever. This new collection gives you a chance to purchase these books at a very affordable price. They will make a very useful addition to your library as well as being great gifts for friends, students, or family members.
ARTIST / AUTHOR BIOS

Guru Rattana, Ph.D., author, teacher and teacher of teachers, has been a student and teacher of Kundalini Yoga and Meditation for over 40 years. She literally lives and loves Kundalini Yoga, and has devoted a large part of her life to teaching and writing books about this amazing technology.
OTHER PRODUCTS BY OR FEATURING GURU RATTANA PHD:
PRODUCT DETAILS
Book softcover 984 pages
ISBN:
Publisher: Yoga Technology LLC, Edition: 2022
Catalog: p01031
Product Dimensions: 1.1 x 8.5 x 3 inches (2.8 x 21.6 x 7.6 cm)
Shipping Weight: 4 lbs (1.81 kg) - Shipping Options
Yoga Technology Sales Ranking (all products): 33
CUSTOMERS ALSO VIEWED: