Dr. Vasant Lad - Ayurvedic Expert
Products and Biography
Dr. Vasant Lad, Ayurvedic physician and professor, is one of the world's foremost experts in Ayurveda, and published widely on the subject. He is director of The Ayurvedic Institute in Albuquerque, NM, which he founded in 1984.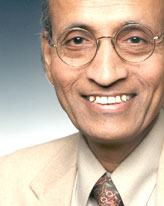 Dr. Lad is the author of numerous books on the subject including the Complete Book of Ayurvedic Home Remedies and has also produced a popular introductory set of 6 CDs – Ayurveda – giving a detailed overview of Ayurvedic theory and practice.
Dr. Vasant Lad holds a Bachelor of Ayurvedic Medicine & Surgery (B.A.M.S.) (1968) from the Univesity of Pune and a Master of Ayurvedic Science (M.A.Sc.) (1980) from Tilak Ayurved Mahavidyalaya, also of Pune. He served for 3 years as Medical Director of the Ayurveda Hospital in Pune, where he had also been an instructor for 15 years. His academic and practical training included the study of allopathy (Western Medicine) and surgery as well as traditional Ayurveda
He brought a wealth of classroom and practical experience with him to the United States. In 1979 he traveled throughout the United States sharing his Ayurvedic knowledge and in 1981 he returned to teach in New Mexico.
In 1984 he became director of The Ayurvedic Institute. Currently Dr. Vasant Lad remains as the Director of The Ayurvedic Institute and teaches an eight month Ayurvedic studies program. He also travels throughout the world, consulting privately and giving seminars on Ayurveda: history, theory, principles and practical applications.
PRODUCTS BY OR FEATURING DR VASANT LAD:
Below you will find our selection of products by Dr Vasant Lad. Retail customers will also enjoy our FREE US Shipping.