| | | |
Your Own Infinity (eBook)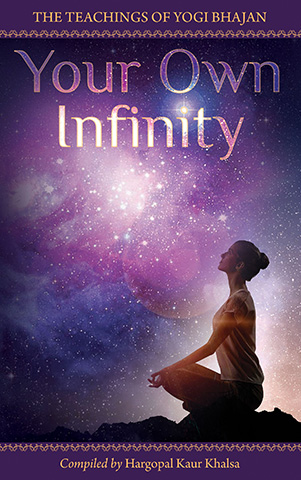 Connecting with Infinity - That Exalted Elevated State of Consciousness
Printed version also available - $19.90
Infinity, God, the Unknown! There are countless names and approaches towards the Infinite. Yogi Bhajan shared many ways to connect with that exalted elevated state of consciousness. In Your Own Infinity, Hargopal Kaur has included some of these paths. See which ones resonate with you and incorporate them into your life.
You have probably heard the term "actionable intelligence" - information that can be acted upon to strategically improve a situation. Well, what you will find in this book is actionable wisdom - information which you can use to directly improve yourself.
Included within its 320 pages is Yogi Bhajan's practical wisdom to help realize the consciousness of the divine. You will also find 26 of his kriyas and meditations, specially selected to help you rise above your finite self and merge with the infinite, creating this consciousness.
ARTIST / AUTHOR BIOS

Yogi Bhajan was the trail-blazing visionary who introduced the world to the amazing, but hitherto secret, teachings of Kundalini Yoga and, for the very first time, revealed its incredible life-transforming potential.

Hargopal Kaur, having had a career in aerospace, has moved on from physics to metaphysics, studying space in the infinitesimal realm to the space in which our planet inhabits, and the space of existence and relationships. She also wandered into Kundalini Yoga over 30 years ago, and found herself a new home in the teachings of Yogi Bhajan.
OTHER PRODUCTS BY OR FEATURING YOGI BHAJAN:
PRODUCT DETAILS
File Size(s) & Update(s):
EPUB - 2.186MB - 06/20/19
MOBI - 5.033MB - 06/20/19

ePublication date: 6/20/2019
Catalog: e07026
Print-length: 320 pages
ISBN: 9780978698997
Publisher: KRI; Printed Edition: 2019
Yoga Technology Sales Ranking (e-products): 40
CUSTOMERS ALSO VIEWED: