| | | |
Yo Soy una Mujer - Kriya (eBook)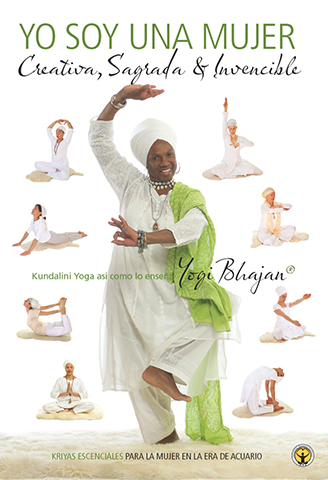 Yo Soy Una Mujer: Creativo, Sagrado, Invincible -Libro es un extraordinario manual de Kundalini Yoga y una herramienta imprescindible para todas las mujeres que buscan la iluminación. Un libro complementario para Soy una mujer, conferencias seleccionadas de las enseñanzas de las mujeres de Yogi Bhajan. Claramente organizado por tema, le permite a usted, el lector, enfocar fácilmente su práctica en un problema particular, por ejemplo, en la eliminación de patrones antiguos. Alternativamente, puede abrirlo al azar e intentar algo nuevo. Cada capítulo incluye una vigorosa kriya o dos, varias meditaciones y una práctica de mantra (corriente de sonido) para conectarse con su sabiduría interna.
Cada conjunto o kriya está acompañado de bellas ilustraciones fotográficas e incluye explicaciones detalladas de las diferentes posturas y también de los mudras específicos (o posiciones de las manos) empleados. El propósito de cada postura y respiración se explica claramente, permitiéndole observar sus efectos. Cada capítulo comienza con hermosas palabras de sabiduría y apoyo.
Después de mi kriya matutino habitual para calmar mi mente demasiado activa, me llené de alegría y aprecio por las mujeres que compilaron este maravilloso libro. Parecían estar llegando desde sus páginas con su amor, orientación y apoyo. Me hizo sentir tan amada, y pude comenzar mi día con una mente refrescante y clara. Gracias a Yogi Bhajan y a los autores de este libro. -
ARTIST / AUTHOR BIOS

Yogi Bhajan was the trail-blazing visionary who introduced the world to the amazing, but hitherto secret, teachings of Kundalini Yoga and, for the very first time, revealed its incredible life-transforming potential.
OTHER PRODUCTS BY OR FEATURING YOGI BHAJAN:
PRODUCT DETAILS
File Size(s) & Update(s):
EPUB - 11.399MB - 10/27/19
MOBI - 14.777MB - 10/27/19

ePublication date: 05/26/2021
Catalog: e07451
Print-length: 0 pages
ISBN:
Publisher: KRI; Printed Edition: 2009
Yoga Technology Sales Ranking (e-products): 79
CUSTOMERS ALSO VIEWED: