| | | |
Physical Wisdom (eBook)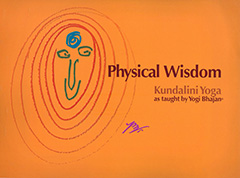 Kundalini Yoga - Wisdom expressed through Action!
Printed version also available - $17.40
Physical Wisdom, based on the Kundalini Yoga teachings of Yogi Bhajan, contains 42 illustrated Kundalini Yoga kriyas and meditations aimed at achieving a radical improvement in all aspects of personal health. It includes a comprehensive section on meditations for effective healing through the chakra system.
The wisdom of Kundalini Yoga is expressed through the medium of action. It can only speak to you if you do it. Proper use of your physical body in its regular practice will enable the unfolding of your own inner wisdom.
ARTIST / AUTHOR BIOS

Yogi Bhajan was the trail-blazing visionary who introduced the world to the amazing, but hitherto secret, teachings of Kundalini Yoga and, for the very first time, revealed its incredible life-transforming potential.

Harijot Kaur Khalsa started Kundalini Yoga classes when living in Oregon. While attending the Eugene White Tantric Yoga course she met Yogi Bhajan and, in the course of their first conversation, he asked her to come back and work for him for three years. When the Tantric was over she flew down to Los Angeles with Yogi Bhajan and Satsimran.
OTHER PRODUCTS BY OR FEATURING YOGI BHAJAN:
PRODUCT DETAILS
File Size(s) & Update(s):
EPUB - 4.006MB - 06/15/18
MOBI - 4.758MB - 06/15/18

ePublication date: 06/15/2018
Catalog: e07105
Print-length: 64 pages
ISBN: 9781934532034
Publisher: KRI; Printed Edition: 2008
Yoga Technology Sales Ranking (e-products): 35
CUSTOMERS ALSO VIEWED: