| | | |
Kundalini Yoga for Intuition and Destiny (eBook)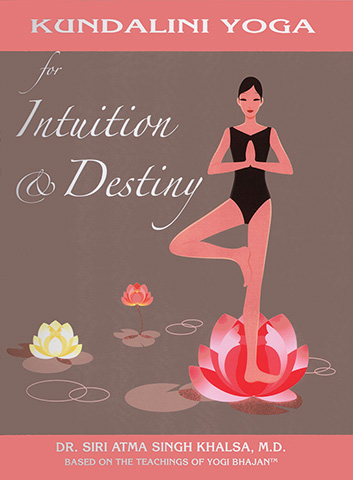 Kriyas to Develop your Self-Sensory System, Awaken Intuition, and Deliver your Destiny
Printed version also available - $34.00
Dr. Siri Atma Singh reveals, in his book Kundalini Yoga for Intuition and Destiny, that the ability of being true to yourself will also bless you with the power of intuition. It will enable you to see how your day will be, and give you a sense on how your destiny will unfold. He shares the wisdom passed on to him by the master, Yogi Bhajan, as well as insights he has gained while following his own spiritual path.
You will discover the nature of being self-sensory, the power of knowing the unknown, the role of fate and destiny, surrender, and mystic experiences. This book contains Kundalini Yoga kriyas to develop your self-sensory system, awaken your intuition, and enable you to deliver your destiny.
ARTIST / AUTHOR BIOS

Siri Atma Singh Khalsa, MD is an engaging speaker in the field of yoga, healing and medicine. A KRI Kundalini Yoga Teacher Trainer, he teaches at Yoga Centers, Solstices and Teacher Training programs worldwide with his wife Nam Kaur.
OTHER PRODUCTS BY OR FEATURING SIRI ATMA S KHALSA MD:
PRODUCT DETAILS
File Size(s) & Update(s):
EPUB - 8.564MB - 08/08/18
MOBI - 19.467MB - 08/08/18
PDF - 2.076MB - 10/23/18

ePublication date: 08/08/2018
Catalog: e05321
Print-length: 102 pages
ISBN: 9780692102831
Publisher: Yogic Reality; Printed Edition: 2018
Yoga Technology Sales Ranking (e-products): 13
CUSTOMERS ALSO VIEWED: