| | | |
Divine Relationships (eBook)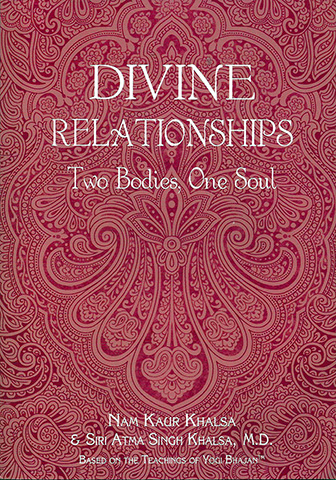 The Art of Attracting, Relationship Enhancement and merging with your Spiritual Partner
Printed version also available - $17.48
In their book Divine Relationships, Two Bodies, One Soul, Nam Kaur and Dr. Siri Atma Singh share with you the time-proven spiritual love lessons that they have found most valuable. You will also discover their personal insights on building intimacy in a loving and committed relationship. Learn how you too can attract and merge with the right spiritual partner, communicating more effectively and enhancing sexual vitality and potency.
He never knows the "she" and she never knows the "he" until they both merge in higher consciousness -
Yogi Bhajan believed that in love and marriage a couple could become "two bodies and one soul". The Kundalini Yoga and meditations selected for Divine Relationships will help you find a partner of caliber, release the pain of past relationships, clear the clouds between you and your partner, achieve marital and financial stability, and energize your current relationship.
ARTIST / AUTHOR BIOS

Nam Kaur has been a student of Kundalini Yoga since 1973. A Professional KRI Teacher Trainer, she has enjoyed teaching Kundalini Yoga for over 30 years. She is the author of Divine Relationships: Two Bodies, One Soul and is married to Dr. Siri Atma Singh.

Siri Atma Singh Khalsa, MD is an engaging speaker in the field of yoga, healing and medicine. A KRI Kundalini Yoga Teacher Trainer, he teaches at Yoga Centers, Solstices and Teacher Training programs worldwide with his wife Nam Kaur.
OTHER PRODUCTS BY OR FEATURING NAM KAUR:
PRODUCT DETAILS
File Size(s) & Update(s):
EPUB - 11.472MB - 08/20/18
MOBI - 25.012MB - 08/20/18
PDF - 4.015MB - 10/23/18

ePublication date: 08/14/2018
Catalog: e05311
Print-length: 166 pages
ISBN: 9780615283852
Publisher: Yogic Reality; Printed Edition: 2013
Yoga Technology Sales Ranking (e-products): 17
CUSTOMERS ALSO VIEWED: