| | | |
Relaciones divinas (eBook)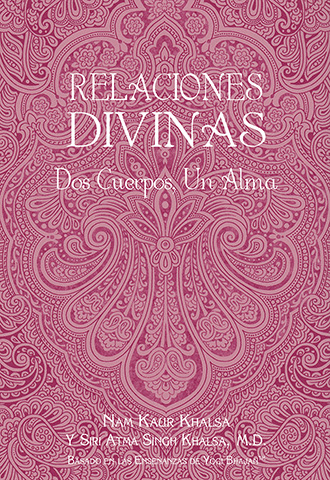 Dos cuerpos, un alma
En Relaciones Divinas: Dos cuerpos, un alma descubrirás cómo atraer a un compañero espiritual, comunicarte más eficientemente, mejorar la vitalidad y la potencia sexual, y fundirte con tu pareja.
Nam Kaur y el Dr. Siri Atma Singh comparten las lecciones de amor espiritual que ellos y otras parejas han encontrado más valiosas, y revelan su visión personal para reforzar la intimidad en una relación amorosa y comprometida.
Él nunca la conoce a "ella" y ella nunca le conoce a "él" hasta que ambos se funden en una consciencia más alta. -
Yogi Bhajan creía que, mediante el amor y el matrimonio, una pareja podía llegar a convertirse en "dos cuerpos y un alma". El Kundalini yoga y las meditaciones seleccionadas para Relaciones Divinas te ayudarán a encontrar un compañero con calibre, liberar el dolor de las relaciones pasadas, despejar las nubes entre tu pareja y tú, conseguir estabilidad marital y financiera, y revitalizar tu actual relación.
ARTIST / AUTHOR BIOS

Nam Kaur has been a student of Kundalini Yoga since 1973. A Professional KRI Teacher Trainer, she has enjoyed teaching Kundalini Yoga for over 30 years. She is the author of Divine Relationships: Two Bodies, One Soul and is married to Dr. Siri Atma Singh.

Siri Atma Singh Khalsa, MD is an engaging speaker in the field of yoga, healing and medicine. A KRI Kundalini Yoga Teacher Trainer, he teaches at Yoga Centers, Solstices and Teacher Training programs worldwide with his wife Nam Kaur.
OTHER PRODUCTS BY OR FEATURING NAM KAUR:
PRODUCT DETAILS
File Size(s) & Update(s):
PDF - 9.316MB - 10/23/18

ePublication date: 08/14/2018
Catalog: e05312
Print-length: 177 pages
ISBN:
Publisher: Yogic Reality; Printed Edition:
Yoga Technology Sales Ranking (e-products): 65
CUSTOMERS ALSO VIEWED: