SHOP eBOOKS | SHOP BOOKS| SHOP DVDs | SHOP CDs | SHOP YOGI TEA
Laws of Life (eBook)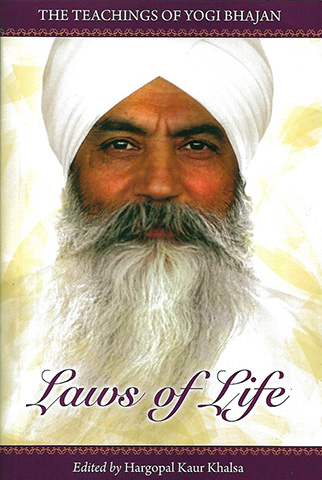 BUY NOW: ONLY $7.03
Retails for: $7.99 You save: $0.96 (12%)
The Teachings of Yogi Bhajan
Printed version also available - $11.90
Beginning in 1969 at his first North American lectures, Yogi Bhajan set out his "Laws of Life". He wanted to move people away from the Piscean viewpoint toward an Aquarian consciousness. His Laws of the Universe – Laws of Relationships and Laws to Live By, were included in his every class, where he would regularly touch on any number of topics. You will find, in this deceptively little book, an introduction to the profundity of Yogi Bhajan and the breadth of his teachings. You will discover, in its collection of quotations and meditations, an excellent personal basis for living a life filled with joy, kindness and compassion.
ARTIST / AUTHOR BIOS

Yogi Bhajan was the trail-blazing visionary who introduced the world to the amazing, but hitherto secret, teachings of Kundalini Yoga and, for the very first time, revealed its incredible life-transforming potential.

Hargopal Kaur, having had a career in aerospace, has moved on from physics to metaphysics, studying space in the infinitesimal realm to the space in which our planet inhabits, and the space of existence and relationships. She also wandered into Kundalini Yoga over 30 years ago, and found herself a new home in the teachings of Yogi Bhajan.
---
OTHER PRODUCTS BY OR FEATURING YOGI BHAJAN:
PRODUCT DETAILS
File Size(s) & Update(s):
EPUB - 2.766MB - 06/15/18
MOBI - 4.644MB - 06/15/18

ePublication date: 06/15/2018
Catalog: e07012
Print-length: 140 pages
ISBN: 9781934532881
Publisher: KRI; Printed Edition: 2013
Yoga Technology Sales Ranking (e-products): 57
---
CUSTOMERS WHO VIEWED THIS ITEM ALSO BOUGHT: