| | | |
I Am a Woman - Yoga Manual (eBook)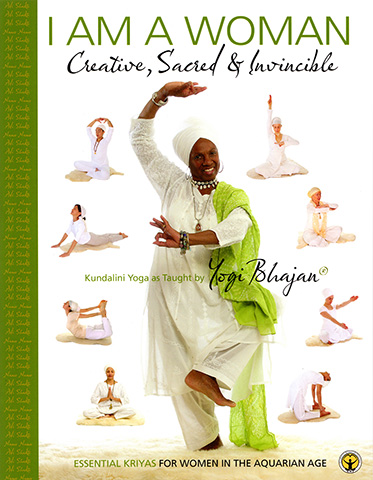 A Must-Have Kundalini Yoga Manual for Every Woman Seeking Enlightenment
Printed version also available - $23.90
This extraordinary Kundalini Yoga eBook, I Am a Woman, Essential Kriyas for Women in the Aquarian Age, is a must have for every woman seeking enlightenment. Its clear organization will enable you to easily focus your practice on a specific problem. You can also open it at a random page to try something new. In each chapter you will find vigorous kriyas, meditations, and a mantra practice to connect with your inner wisdom. This is a companion eBook to I Am a Woman, Selected Lectures from the Women's Teachings of Yogi Bhajan.
Each set or kriya is accompanied by beautiful photographic illustrations, and detailed explanations are included of the different postures and also of the specific mudras (or hand positions) employed. The purpose of each breath and posture is clearly explained, enabling you to observe its effects. You will also find beautiful words of wisdom and support at the beginning of each chapter.
Following my regular morning kriya to calm my overly active mind, I found myself filled with joy and appreciation for the women who compiled this wonderful book. They seemed to be reaching out from its pages with their love, guidance and support. It made me feel so loved, and I was able to start my day with a refreshingly clear mind. Thank you to Yogi Bhajan and to the authors of this book. -
ARTIST / AUTHOR BIOS

Yogi Bhajan was the trail-blazing visionary who introduced the world to the amazing, but hitherto secret, teachings of Kundalini Yoga and, for the very first time, revealed its incredible life-transforming potential.
OTHER PRODUCTS BY OR FEATURING YOGI BHAJAN:
PRODUCT DETAILS
File Size(s) & Update(s):
EPUB - 9.041MB - 06/15/18
MOBI - 12.969MB - 06/15/18

ePublication date: 06/15/2018
Catalog: e07051
Print-length: 204 pages
ISBN: 9781934532164
Publisher: KRI; Printed Edition: 2009
Yoga Technology Sales Ranking (e-products): 34
CUSTOMERS ALSO VIEWED: