SHOP eBOOKS | SHOP BOOKS| SHOP DVDs | SHOP CDs | SHOP YOGI TEA
The Masters Touch (eBook)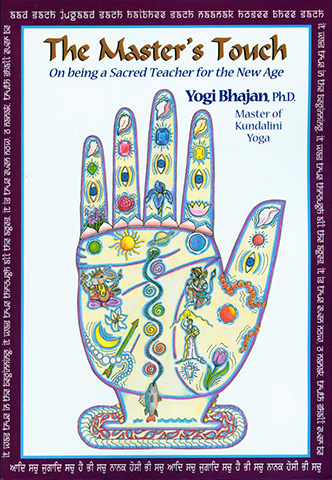 BUY NOW: ONLY $26.39
Retails for: $29.99 You save: $3.60 (12%)
On Being a Sacred Teacher for the New Age
Printed version also available - $39.90
Yogi Bhajan's The Master's Touch is an essential library addition for both qualified and aspiring Kundalini Yoga teachers and also for truth-seekers wishing to gain a deeper understanding of Kundalini Yoga philosophies, meaning and mastery. It also provides you with an inside look into the mind of Yogi Bhajan; a look that will, for days afterwards, have you thinking and pondering questions on the mysteries of life. In it you will find a superb collection of pragmatic spiritual teachings from Yogi Bhajan's Master's Touch courses. The path of the teacher is clearly explained using wit, compassion and a practical sense of the challenges of life we all face every day.
ARTIST / AUTHOR BIOS

Yogi Bhajan was the trail-blazing visionary who introduced the world to the amazing, but hitherto secret, teachings of Kundalini Yoga and, for the very first time, revealed its incredible life-transforming potential.
---
OTHER PRODUCTS BY OR FEATURING YOGI BHAJAN:
PRODUCT DETAILS
File Size(s) & Update(s):
EPUB - 3.950MB - 06/15/18
MOBI - 5.677MB - 06/15/18

ePublication date: 06/15/2018
Catalog: e07011
Print-length: 340 pages
ISBN: 9780963999115
Publisher: KRI; Printed Edition: 1997
Yoga Technology Sales Ranking (e-products): 48
---
CUSTOMERS WHO VIEWED THIS ITEM ALSO BOUGHT: