SHOP eBOOKS | SHOP BOOKS| SHOP DVDs | SHOP CDs | SHOP YOGI TEA
El Toque del Maestro (eBook)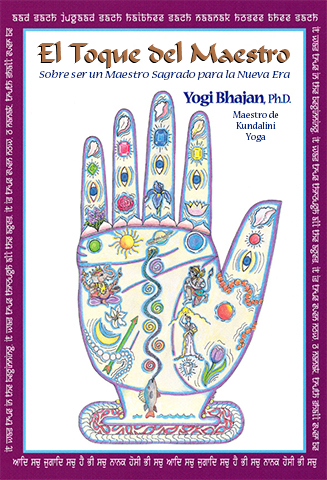 BUY NOW: ONLY $26.39
Retails for: $29.99 You save: $3.60 (12%)
Ser un Maestro Sagrado para la Nueva Era
E ste libro contiene las conferencias y meditaciones que Yogi Bhajan impartió durante sus cursos de ―El Toque del Maestro‖ en julio de 1996, en Española, Nuevo México, y en abril de 1997, en Asís. Italia. Los mismos se presentan aquí como un medio para toda la gente que busca abrir nuevas puertas en el camino espiritual para expandirse o retarse a si mismos. Yogi Bhajan expone en las conferencias de ―El To-que del Maestro‖ la importancia de la disciplina espiritual para enfrentar los retos de la vida. Sobre todo, establece el plan de lo que significa ser un legitimo maestro es-piritual para esta Nueva Era, la ―Era de Acuario‖.
ARTIST / AUTHOR BIOS

Yogi Bhajan was the trail-blazing visionary who introduced the world to the amazing, but hitherto secret, teachings of Kundalini Yoga and, for the very first time, revealed its incredible life-transforming potential.
---
OTHER PRODUCTS BY OR FEATURING YOGI BHAJAN:
PRODUCT DETAILS
File Size(s) & Update(s):
EPUB - 3.024MB - 10/27/19
MOBI - 3.979MB - 10/27/19

ePublication date: 05/25/2021
Catalog: e07411
Print-length: 0 pages
ISBN:
Publisher: KRI; Printed Edition: 0
Yoga Technology Sales Ranking (e-products): 96
---
CUSTOMERS WHO VIEWED THIS ITEM ALSO BOUGHT: