SHOP eBOOKS | SHOP BOOKS| SHOP DVDs | SHOP CDs | SHOP YOGI TEA
Art and Yoga (eBook)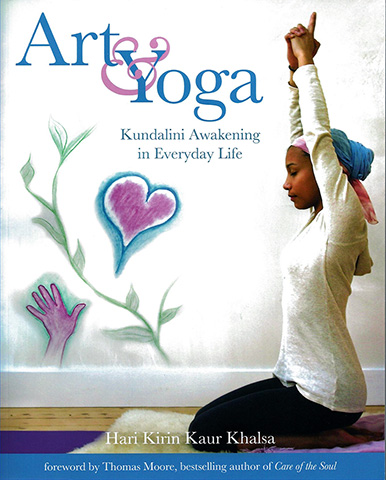 BUY NOW: ONLY $15.83
Retails for: $17.99 You save: $2.16 (12%)
Kundalini Awakening in Everyday Life
Printed version also available - $23.90
Art and Yoga will both heal and serve your soul, your community and your entire world. Beautifully illustrated, it provides step-by-step instructions on how you can work with art & yoga as complementary practices. In its pages yogis will discover creative exercises to deepen their experience, while artists will find, it its simple, yet profound yoga and meditation, ways which will help their creative flow, focus and intuition.
ARTIST / AUTHOR BIOS

Hari Kirin Kaur Khalsa, a professional artist, has been teaching Kundalini Yoga for twenty-five years, and recently become a KRI Certified Lead Teacher. She teaches at Kripalu Center for Yoga and Health, Schumacher College, the Antrim Girls Shelter, Access Shunia and sliding scale classes at the Union Mill in Peterborough, New Hampshire.
PRODUCT DETAILS
File Size(s) & Update(s):
EPUB - 14.858MB - 06/15/18
MOBI - 17.050MB - 06/15/18

ePublication date: 06/15/2018
Catalog: e07041
Print-length: 140 pages
ISBN: 9781934532676
Publisher: KRI; Printed Edition: 2011
Yoga Technology Sales Ranking (e-products): 70
---
CUSTOMERS WHO VIEWED THIS ITEM ALSO BOUGHT: