SHOP eBOOKS | SHOP BOOKS| SHOP DVDs | SHOP CDs | SHOP YOGI TEA
Yo Soy una Mujer - Textos Seleccionados (eBook)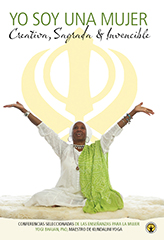 BUY NOW: ONLY $21.99
Retails for: $24.99 You save: $3.00 (12%)
Soy una mujer, conferencias seleccionadas de las enseñanzas de las mujeres de Yogi Bhajan, es una fuente de referencia extraordinaria y imprescindible para todas las mujeres que buscan la iluminación. Un volumen complementario para Soy una mujer, Kriyas esenciales para mujeres en la era de Acuario , este libro llena los vacíos. Donde el primer libro se enfoca en la práctica de Kundalini Yoga, este es más sobre el "por qué". Yogi Bhajan dio muchas conferencias en los campamentos de mujeres de Khalsa celebrados en Española, Nuevo México, y gran parte de este material ha sido incluido. Le permite a usted, el lector, concentrarse en un aspecto específico de su feminidad. También puede leerse de principio a fin o simplemente abrirse al azar para recibir nuevas ideas cada vez que lo recoja.
A lo largo de sus páginas destaca su identidad como mujer: ser Creativa, Sagrada e Invencible. Las selecciones de las conferencias originales se entremezclan con las historias y las experiencias compartidas de mujeres de todos los ámbitos de la vida que comparten una cosa en común: todas ellas han entrado en relación con su Verdadero Ser y estas enseñanzas.
Este libro lo entregará a su infinito, sensibilidad y resplandor. Yogi Bhajan reconoce tu poder innato para curarte a ti mismo y a los que te rodean. Su sabiduría informará y transformará sus relaciones y ciclos de vida, en el proceso que le dará las claves para el bienestar físico y emocional mientras descubre la belleza dentro de usted.
"Que la luz dentro de ti te guíe. Porque cuando miras al exterior en busca de luz, existe la posibilidad de que puedas ser cegado y explotado. Pero una cosa nunca traicionará a una mujer: su propia luz y su propio resplandor como mujer. Si la luz dentro de ti puede guiarte, definitivamente sobresaldrás. Ha llegado el momento en que esta explotación debe detenerse. Ha llegado el momento en que una hija debe ser tratada como una hija, una madre debe ser tratada como una madre, una esposa debe ser tratada como una esposa y, sobre todo, la mujer debe ser tratada como una mujer " -
ARTIST / AUTHOR BIOS

Yogi Bhajan was the trail-blazing visionary who introduced the world to the amazing, but hitherto secret, teachings of Kundalini Yoga and, for the very first time, revealed its incredible life-transforming potential.
---
OTHER PRODUCTS BY OR FEATURING YOGI BHAJAN:
PRODUCT DETAILS
File Size(s) & Update(s):
EPUB - 4.709MB - 10/27/19
MOBI - 5.872MB - 10/27/19

ePublication date: 05/26/2021
Catalog: e07452
Print-length: 0 pages
ISBN:
Publisher: KRI; Printed Edition: 2009
Yoga Technology Sales Ranking (e-products): 91
---
CUSTOMERS WHO VIEWED THIS ITEM ALSO BOUGHT: