| | | |
Gura para Sadhana de Kundalini Yoga (eBook)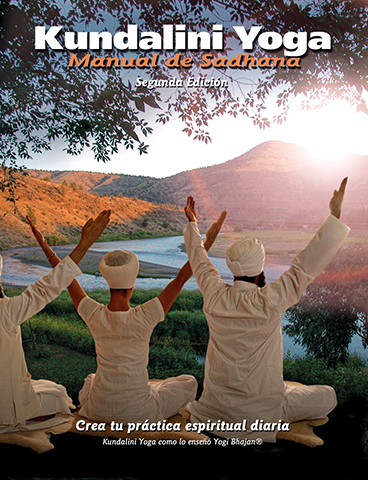 Originariamente extraido desde un volumen del Kundalini Quarterly, Kundalini Yoga Sadhana Guidelines es una revisión del anterior Guidelines for a Succesful Sadhana, volúmenes 4 y 5, del KRI Journal of Science of Consciousness for Living in the Aquarian Age, publicado en 1974. Tanto el original como esta nueva edición fueron compilados por Gurucharan Singh Khalsa, Ph.D., Director del Instructorado del Kundalini Research Institute.
Esta nueva edición incluye un ensayo actualizado del Sadhana Matinal de Gurucharan Singh, delineando muchas de sus ideas esenciales del ensayo original más una revisión de todos los Sadhanas dados a la comunidad 3HO a lo largo de los años y una perspectiva del Sadhana Acuariano como debe ser practicado hasta el año 2012 inclusive.
Todavía podemos encontrar el ensayo original de Yogi Bhajan sobre el yoga y la meditación más una gran riqueza de Kriyas y meditaciones que conoces y amas; y otros nuevos y favoritos como el Kriya para el Sadhana Matinal y el Tershula Kriya. Esto también marca un nuevo comienzo en nuestro esfuerzo para servir a la comunidad internacional de instructores, maestros y estudiantes. Estaremos publicando el Manual de Sadhana de Kundalini Yoga Segunda Edición en tres idiomas simultáneamente, con más traducciones posibles en los próximos meses y años. Esperamos que disfrutes de esta nueva edición y puedas acercarte a esta Nueva Era con alegría en tu corazón, acero en tus venas, calibre en tu carácter y una conciencia despierta para servir y elevar a quien se cruce en tu camino — solamente con tu presencia.
ARTIST / AUTHOR BIOS

Gurucharan Singh Khalsa is a psychotherapist, teacher and writer, and is a world recognized expert in the science and technology of Kundalini Yoga. He is a business consultant, therapist, MIT instructor and director of a large community of yoga practitioners. Today, he is a leading expert in Kundalini Yoga and meditation and his passion for teaching this ancient form of yoga insures that, through his work, he is able to continue assisting people in great numbers.
OTHER PRODUCTS BY OR FEATURING GURUCHARAN SINGH:
PRODUCT DETAILS
File Size(s) & Update(s):
EPUB - 12.601MB - 10/27/19
MOBI - 16.071MB - 10/27/19

ePublication date: 05/26/2021
Catalog: e07422
Print-length: 0 pages
ISBN:
Publisher: KRI; Printed Edition: 0
Yoga Technology Sales Ranking (e-products): 98
CUSTOMERS ALSO VIEWED: