| | | |
Las 21 Etapas de la Meditacion (eBook)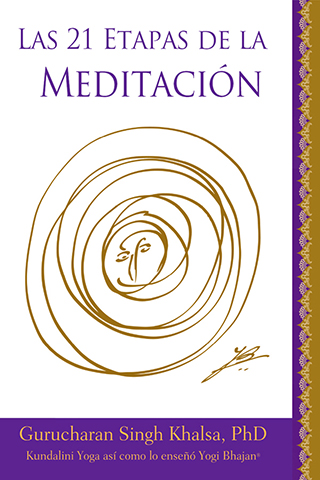 Gurucharan Singh, en su libro Las 21 etapas de la meditación, te inspira y motiva, brindándote la orientación que necesitas mientras trabajas tanto para expandir tu práctica como para profundizar tu experiencia y comprensión. Aprenderá a reconocer sus fortalezas como meditador, aclarará el proceso de meditación real y descubrirá los pasos adicionales que deberá seguir para continuar su proceso de aprendizaje.
Basado en las enseñanzas de Kundalini Yoga de Yogi Bhajan, este libro explica todo, científica, mental y espiritualmente. Es igualmente efectivo tanto para aquellos que comienzan a meditar (para que sepan que lo que experimentan es "normal") como para meditadores más experimentados. Es posible que tenga algunas experiencias diferentes a las detalladas en el interior, pero eso no significa que no siga las instrucciones. Las experiencias meditativas pueden variar mucho de un individuo a otro e incluso de un día a otro.
ARTIST / AUTHOR BIOS

Gurucharan Singh Khalsa is a psychotherapist, teacher and writer, and is a world recognized expert in the science and technology of Kundalini Yoga. He is a business consultant, therapist, MIT instructor and director of a large community of yoga practitioners. Today, he is a leading expert in Kundalini Yoga and meditation and his passion for teaching this ancient form of yoga insures that, through his work, he is able to continue assisting people in great numbers.
OTHER PRODUCTS BY OR FEATURING GURUCHARAN SINGH:
PRODUCT DETAILS
File Size(s) & Update(s):
EPUB - 9.218MB - 10/27/19
MOBI - 11.069MB - 10/27/19

ePublication date: 05/26/2021
Catalog: e07423
Print-length: 0 pages
ISBN:
Publisher: KRI; Printed Edition: 0
Yoga Technology Sales Ranking (e-products): 68
CUSTOMERS ALSO VIEWED: