The Chakras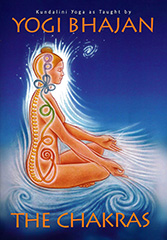 BUY NOW FOR: $19.95
Retails for - $24.95 You save - $5.00
Ships FREE to US Retail Customers (USPS Media Mail)
Normally ships from our warehouse in 1-2 working days
Kundalini Yoga as taught by Yogi Bhajan
The chakras are the keys to being human and being happy. Yogi Bhajan, the Master of Kundalini Yoga, defines the nature of the chakras, how they work, their interaction, projection and potency, with both humor and subtlety, and often, surprising candor.
CUSTOMERS WHO BOUGHT THIS ITEM ALSO BOUGHT:
OTHER PRODUCTS BY OR FEATURING YOGI BHAJAN:
Throughout this manual and the accompanying meditations you will:
Strengthen each chakra to work in balance with the others
Discover the universal impact of the Fifth Chakra - your gateway to commitment
Empower the Self and live your Highest Identity
Finally a down-to-earth, provocative, funny and deeply spiritual guide on the chakra system. When I read this manual I breathed a sigh of relief, knowing that there is such a good source available for people wanting to improve their lives though knowledge of the chakras, from someone who really knew, and who dedicated his life to getting those once-secret teachings out to humanity.
These lectures on the chakras by Yogi Bhajan are priceless gems. The information is not what you will find anywhere else. Engaging and insightful, they will truly deepen your understanding of this age-old yogic system of understanding the Self. Beyond the information in the lectures, the meditative kriya experiences are powerful and uplifting. Yogi Bhajan is the Master of Kundalini Yoga! I am grateful we have this valuable work.
If you can practice and understand these chakras and develop them automatically in your body so they become your companions, then you have seven friends.
PRODUCT DETAILS
Book softcover 162 pages
ISBN: 9781934532867
Publisher: KRI, Edition: 2012
Catalog: p07071
Product Dimensions: 10 x 7 x 0.5 inches (25.4 x 17.8 x 1.3 cm)
Shipping Weight: 0.9 lbs (0.41 kg) Shipping Options
Yoga Technology Sales Ranking (all products): 38