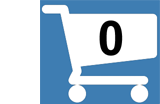 Owners Manual For The Human Body.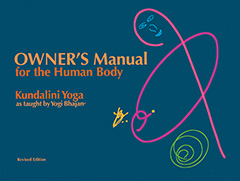 BUY NOW FOR $18.95
Retails for - $21.95 You save - $3.00
Ships FREE via USPS to US Retail Customers
Normally ships from our warehouse in 1-2 working days
MORE BOOKS | MORE DVDs | MORE CDs | YOGI TEA
Tune-up Your Body for Peak Performance and Long Life
Owners Manual for the Human Body - Yogi Bhajan performs a vital role for personal health. Most people regularly tune-up their cars for peak performance and long life. Not so with their own physical body. We tune up our cars, but forget that our own bodies need the same devoted attention and maintenance to give us the energy and well-being necessary for living a full and happy life.
Kundalini Yoga is an ancient science with the technology to maintain and tune-up the human body so that it can achieve peak performance at every age and stage of life. It is this aspect of Kundalini Yoga that suggested the "Car Maintenance" format for this manual. As car buffs and students of Kundalini Yoga we just couldn't resist of ignore the parallels.
Sometimes it is thought that improving one's self is such serious business that no one is allowed to have fun in the process. In this manual we hope that you'll get a chuckle out of the format and also take to heart the idea that your body is very important and needs a regular, daily tune-up.
PRODUCT DETAILS
Manual (wire/spiral binding) 50 pages
ISBN: 9780963999108
Publisher: Kundalini Research Institute, Edition: 2001
Catalog: P07106
Product Dimensions: 11 x 8.5 x 0.5 inches (27.9 x 21.6 x 1.3 cm)
Shipping Weight: 0.7 lbs (0.32 kg) Shipping Options
Yoga Technology Sales Ranking (all products): 55
CUSTOMERS WHO BOUGHT THIS ITEM ALSO BOUGHT:
ARTIST / AUTHOR BIOS
Yogi Bhajan

When Yogi Bhajan (Harbhajan Singh Puri) arrived in North America from India in 1968, be brought with him the ancient and powerful technology of Kundalini Yoga. Its introduction to the Western World broke an ancient tradition of secrecy. Traditionally these sacred teachings were passed from teacher to student in a very selective and elitist fashion and had never been taught anywhere publicly.
OTHER PRODUCTS BY OR FEATURING YOGI BHAJAN:
Below you will find our selection of other products by Yogi Bhajan, competitively priced, and with FREE Shipping to US Retail Customers.